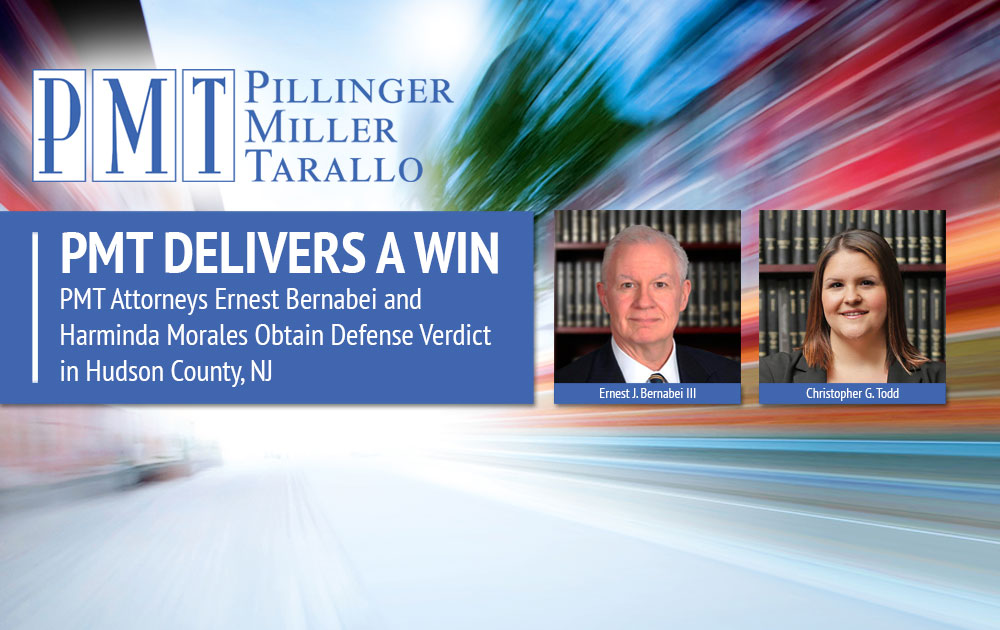 On July 25th, 2017, after a 6-day jury trial, PMT partner, Ernest J. Bernabei, assisted by associate, Harminda Morales, obtained a defense verdict in the Hudson County, New Jersey Superior Court. Hon. Jeffrey Jablonski presided over this premises liability matter in which Mr. Bernabei represented Pier 115 Bar and Grill, a commercial tenant in a building owned by co-defendant 115 River Road. Plaintiff alleged that she was struck by an exit door to the side of the main entrance to the lobby, incurring a severe head injury leading to permanent neurological impairment, vision issues, as well as cervical and lumbar injuries. Plaintiff lost consciousness and was taken to the ER after the impact. She presented medical testimony opining the need for lumbar fusion surgery. Her pretrial demand was $3 million dollars.
On the first day of trial, plaintiff settled with the co-defendant landlord, thus changing the dynamics and focus of the trial. Plaintiff specifically claimed that employees of our client had caused damage to the "panic bar" of the door through constant misuse. This allegedly caused the door to open very quickly and without warning, leading to the accident.
Mr. Bernabei focused on the plaintiff's lack of direct evidence as to actions of the employees as well as raising serious credibility issues as to plaintiff's damages. He established her bias towards the defendant restaurant by showing a pattern of complaints by her and her business partner made to the landlord, the health department and various local officials. Through motion practice, he was able to preclude large portions of the plaintiff's medical expert testimony on causation since it was not set forth in an unequivocal manner as required under the law. Plaintiff's motions to admit late and irrelevant evidence of fire inspection violations were also successfully defended.
At the close of trial, Mr. Bernabei argued the lack of duty as to a commercial tenant in regard to common areas as well as the lack of credible evidence as to any condition of the door. The plaintiff's final demand as to our client was $500,000.00. The jury returned a favorable verdict after a total of 1 hour of deliberations. PMT was pleased to have obtained this result for the insured and the carrier.
If you have any questions, please contact:
Jeffrey Miller
jmiller@pmtlawfirm.com
Peter Dunne
pdunne@pmtlawfirm.com