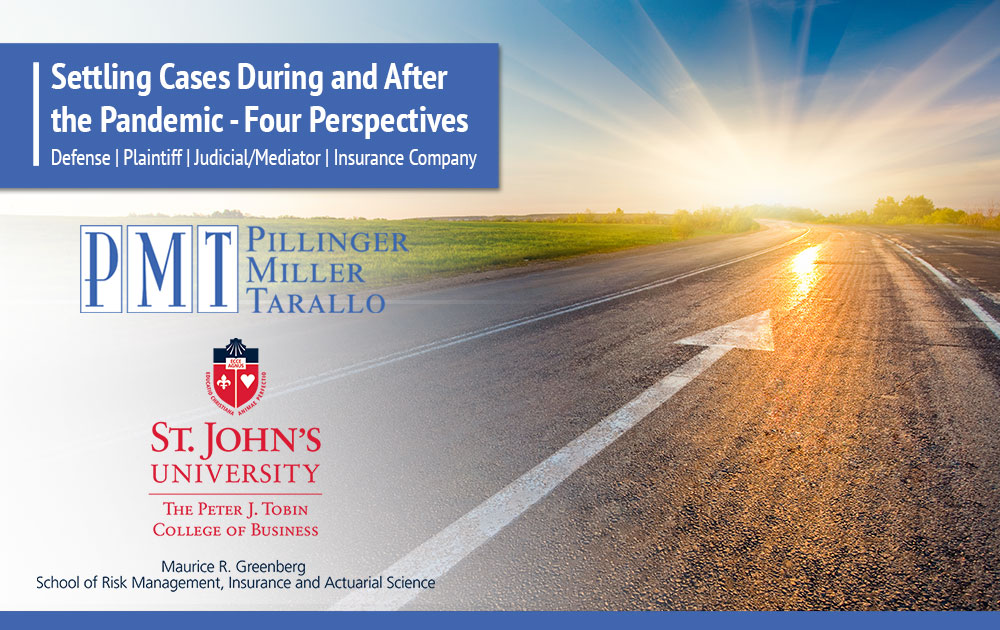 Pillinger Miller Tarallo and St. John's Tobin Center for Executive Education, its Maurice R. Greenberg
School of Risk Management, Insurance and Actuarial Science (GSRM) proudly presents:
Settling Cases During and After the Pandemic –
Four Perspectives
Defense | Plaintiff | Judicial/Mediator | Insurance Company
Wednesday, May 19, 2021 | 2:00 pm – 4:15 pm
CLICK HERE TO REGISTER

Our second conference series will examine how settling personal injury cases has been affected both during and after the pandemic. Instead of the steady stream of cases going to court and eventually settling on the eve of trial, cases are stalled. The courts have been closed or operating at significantly reduced capacity for almost a year. Also, a reduction in judges, court personnel, and jury trial limitations because of COVID-19 protocols has considerably slowed personal injury settlements.
Our conference webinar will examine this from four perspectives: defense, plaintiffs, judicial, and insurance. Our panel will consist of the defense attorney perspective, a plaintiff's attorney, the judicial perspective, and the insurance company perspective. We will look at what has been the panelists' experience during the past year and what changes they envision once the pandemic is over as we return to a "new normal. "
CLICK HERE TO REGISTER
Online registration at St. John's Tobin Center for Executive Education
Webinar Panelists
Defense Perspective: Jeffrey T. Miller, Executive Partner – Pillinger Miller Tarallo, LLP
Judicial Perspective: John DiBlasi, NAM and Retired Supreme Court Justice
Plaintiff Perspective: Jeffrey A. Block, Partner – Block O'Toole & Murphy, LLP
Insurance Perspective: Vanessa Scrudato, Director of Construction Litigation, Onyx Insurance Brokerage Inc of AmTrust Financial Services
Additional Insights: Jack Jennings, Adjunct Professor – Maurice R. Greenberg School of Risk Management
Moderator: Thomas M. Bona, Partner – Pillinger Miller Tarallo, LLP
Agenda
2 pm
OPENING REMARKS
Thomas M. Bona, Partner – Pillinger Miller Tarallo, LLP
2 pm – 3 pm
Session One: Five Things You Must Know About Settling Cases During the Pandemic
Insurance carriers are still craving settlements.
Waiting for the Calvary? Not a Chance
Do it Yourself- You Need to Get This Done
Too Early or Too Late to Settle? Never!
Case Closed – Music to Everyone's Ears
3 pm – 3:15 pm   
BREAK
3:15 pm – 4:15 pm
Session Two: Future Pacing and Settling Cases After the Pandemic
Will jury trials ever be the same and will the re-emergence of jury trials change anything?
Are settlement amounts lower because of court congestion and long delays for jury trials?
How will the suffering associated with the pandemic affect a juror's valuation of the case?
Will values increase?
Will mediations and binding arbitration replace jury trials?
Will anyone agree to non-jury trials?
What will be the effect of COVID on the availability and pricing of policies?
Q&A
*Speakers and Agenda are subject to change
Thank You to Our Partners