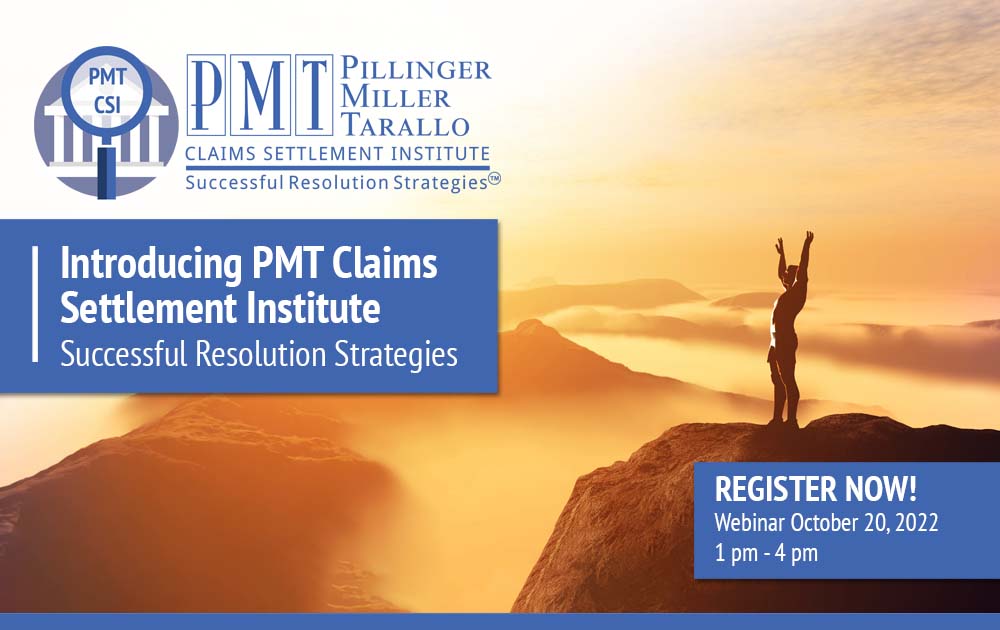 Pillinger Miller Tarallo and St. John's Tobin Center for Executive Education, its Maurice R. Greenberg School of Risk Management, Insurance and Actuarial Science (GSRM) Proudly Presents Our 5th Conference Webinar Series:
Introducing PMT Claims Settlement Institute:
Successful Resolution Strategies™
Thursday, October 20, 2022 | 1:00 pm – 4:00 pm
Two (2) CLE or CE Credits are Available for Claims Adjusters or Attorneys who are Licensed in NY, NJ or PA. Must supply license, state, profession and e-Mail upon registration and must attend the entire webinar. ​
PMT's Claims Settlement Institute will feature insurance industry leaders who will examine cutting-edge topics and provide claims professionals with concepts, ideas, and techniques about successfully resolving every type of personal injury case.
This webinar will introduce the results of the 2021 Pillinger Miller Tarallo, LLP and St. John's School of Risk Management claims settlement survey.
CLICK HERE TO REGISTER
Online Registration at St. John's Tobin Center for Executive Education
---
Webinar Panelists
Moderator:
Thomas M. Bona, Esq., Partner – Pillinger Miller Tarallo, LLP
Panelists:
Jeffrey T. Miller, Esq., Executive Managing Partner – Pillinger Miller Tarallo, LLP
Jeffrey D. Schulman, Esq., Executive Managing Partner – Pillinger Miller Tarallo, LLP
John J. Tambascia, Esq., Partner – Pillinger Miller Tarallo, LLP
Professor Albert J. Beer – St. John's Greenberg School of Risk Management XL Chair
Professor Jack Jennings – St. John's Greenberg School of Risk Management
Jeffrey Block, Esq., Partner – Block O'Toole & Murphy
Hon. John DiBlasi – NAM and Retired Supreme Court Justice
Nancy Kalinoglu, Risk Manager – City Underwriting Agency
Samantha A. Jacey, Assistant Vice President Liability Claims – GNY
---
Agenda
Thursday, October 20, 2022
1:00 pm – 1:15 pm – Opening Remarks – Thomas M. Bona, Esq., Partner – Pillinger Miller Tarallo, LLP
Session 1 – 1:15 pm – 2:15 pm
Professor Albert Beer, keynote remarks "Why Insurance Companies Ignore the Claims Function At Their Own Risk"
Jeffrey Miller, PMT – "5 Mistakes Plaintiffs Make When Settling Cases"
Jeffrey Block, Block O'Toole & Murphy – "5 Mistakes Defendants Make When Settling Cases"
John P. DiBlasi, NAM – "5 Mistakes Every Attorney Makes during Mediation"
Break – 2:15 pm – 2:30 pm
Session 2 – 2:30 pm – 4:00 pm
Introducing the Results of the 2021 PMT SJU Claims Settlement Survey
Jeffrey D. Schulman, Executive Partner – Pillinger Miller Tarallo
John J. Tambascia, Partner – Pillinger Miller Tarallo
Jack Jennings, Professor – St. John's Greenberg School of Risk Management
Nancy Kalinoglu, Risk Manager – City Underwriting Agency
Samantha A. Jacey, Assistant Vice President Liability Claims – GNY
Jeffrey Block, Partner – Block O'Toole & Murphy
Note:
Speakers and agenda are subject to change.
CE Credits Are Available
---
Thank You to Our Partners