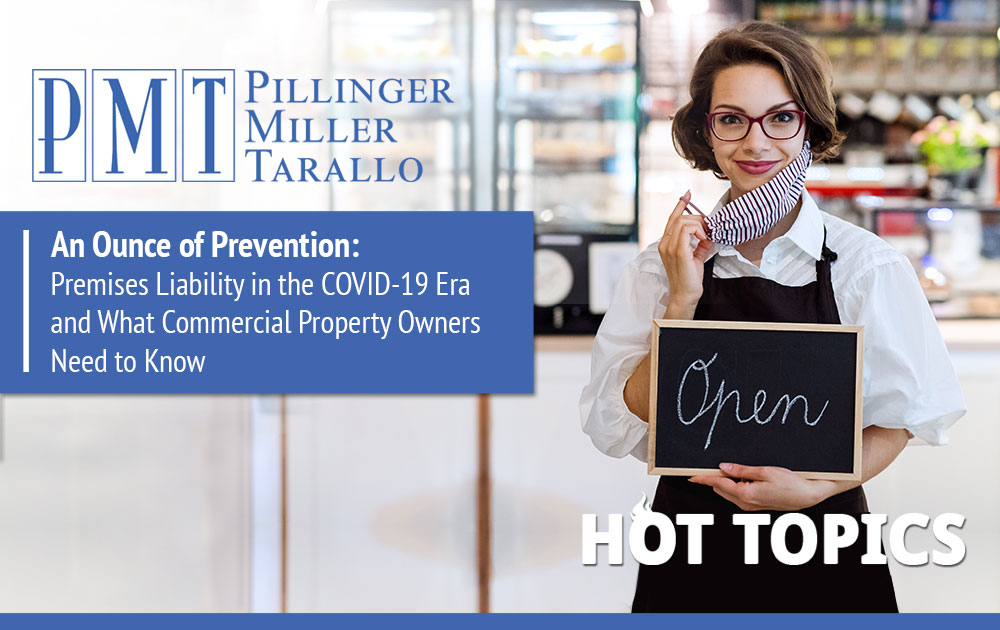 By Jeffrey T. Miller and Thomas M. Bona.
As COVID-19 rapidly swept the nation, closing the doors of thousands of businesses since March, owners are anxious to flick on their "OPEN" signs and return to work after nearly six months. Restrictions are lifting and businesses are re-opening, but this "new normal" presents various challenges for businesses. Owners have a newfound responsibility to take reasonable steps to protect both their employees and customers from exposure to the virus. Premises liability encompasses injuries that occur on a property owner's premises arising out of the owner's own negligence. While there is no explicit shield to liability, companies can institute and implement numerous practices to promote the safety and welfare of those who are present on the premises during this unprecedented time.
Generally, a property owner is required to maintain the premises in a reasonably safe condition. By failing to uphold this duty, one who owns, occupies, leases, or otherwise controls a piece of real property may be liable for injuries caused by conditions or persons thereon. To bring a successful cause of action under a theory of negligence, the plaintiff would need to prove (1) a dangerous condition existed on the land; (2) the owner created or had notice of the condition; and (3) the owner failed to take reasonable measures to protect persons on the land from the condition. Due to the easy transmission of COVID-19, there is an increased likelihood of exposure to the virus on the premises, with potential claims alleging a "dangerous or defective condition" that the business failed to adequately protect its customers from. While the "reasonableness" standard is fairly subjective, businesses can take steps to mitigate potential claims by looking to state and local regulations, as well as the guidelines issued by the CDC.
To decrease potential exposure to liability, property owners may consider the following:
Adhere to Health Policies
Businesses are responsible for ensuring both its employees and customers adhere to health policies, including proper face coverings, social distancing, and proper sanitation. Take precautions by placing a notice on the entrance door to the premises with the protocol outlined. Further, some businesses have mapped out specific entry and exit paths, along with floor markings denoting the 6-feet-apart distance requirement. Find what works for your business and stick to it.
Take Precautions
Aside from the mandatory guidelines enforced by state and local laws and the CDC, business owners are welcome to take additional precautions they deem necessary in continuing the safe operation of the business. Whether it be the signing of a waiver acknowledging the risks of COVID-19, required temperature testing, or plexiglass barriers, businesses have designed their own protocols that go beyond what is required by the law.
Designate a "Point Person"
As new information is communicated, policies and guidelines continue to change. By appointing a person, or small group, to monitor these policies and implement changes as necessary, owners can ensure compliance with the most up-to-date regulations. This can be used to show that the business used reasonable care and that the premises were kept in a reasonably safe condition.
Alter the Operation Routine
Assess the way in which the business formerly operated and evaluate whether changes can be made to reduce contact between persons on the premises. Whether it be through curb-side pickup, outdoor only dining, or providing delivery, consider whether the business could continue to efficiently operate in a new or different way.
Keep a Record
Documenting compliance with guidelines is essential to reducing liability and provides businesses and professionals with an extremely valuable safeguard. Even if a business uses due care to keep its premises safe, failure to keep an accurate and detailed record of compliance may be consequential and give a jury a reason to find a business liable.
 These simple steps can provide a business with an ounce of prevention that obviates the need for a pound of cure.