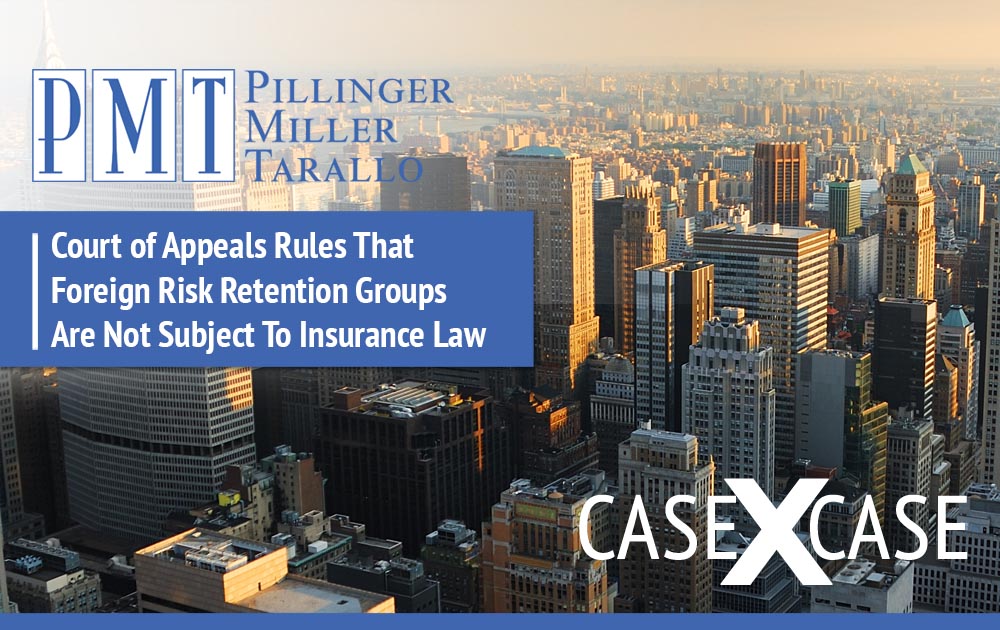 Requiring A Disclaimer As Soon As Reasonably Possible
One of the linchpins of insurance coverage in New York is Insurance Law §3420(d)(2) which requires that a disclaimer be made as soon as reasonably possible.  This requirement applies to all insurance companies which are issuing or delivering liability policies in the State of New York, but does this apply to Risk Retention Groups who are not domiciled in New York, but are doing business in New York?  A recent Court of Appeals case clarified what is required by non-domiciliary Risk Retention Groups.
By way of background, in 1988, the legislature amended Article 59 of the Insurance Law to provide for the formation and operation in New York of Risk Retention Groups.  A Risk Retention Group ("RRG") is an issuer of insurance owned and operated by insureds who work in the same industry and are exposed to similar liability risks.  When the legislature authorized RRGs, it provided that non-domiciliary RRGs doing business in New York shall comply with the unfair claims of settlement practices provisions as set forth in §2601 of the Insurance Law.  Insurance Law §2601 lists acts by insurers which, if committed without just cause and performed with such frequency as to indicate a general business practice, shall constitute unfair settlement practices.  This included failing to promptly disclose insurance coverage pursuant to Insurance Law §3420(d).
Insurance Law §3420(d) contains two paragraphs:  The first requires insurers to respond to requests for information by insureds or injured individuals, and mandates that insurers inform the requesting party within statutory deadlines whether the insured has a particular policy, the coverage limits of that policy and whether additional information is needed to identify the policy. The second paragraph (d)(2), provides that if an insurer shall disclaim or deny coverage, "it shall give written notice as soon as is reasonably possible".  Insurance Law §3420(d)(2) has been interpreted by the Courts as requiring a disclaimer within 30 days of when the insurer is in possession of facts sufficient to make a decision on coverage.  In practice, this places a sort of stopwatch on insurers who cannot dilly-dally on a coverage decision.  An untimely disclaimer robs the insurer of raising coverage defenses including disclaiming and provides coverage by default to the putative disclaimee.
In Nadkos, Inc. v. Preferred Contrs. Ins. Co. Risk Retention Group LLC, Nadkos was a general contractor in an underlying personal injury action by an employee of Nadkos' subcontractor.  The subcontractor's general liability carrier was Preferred Contractors Insurance Company Risk Retention Group LLC, ("PCIC").  PCIC is an RRG chartered in Montana doing business in New York.  The PCIC policy named Nadkos as an additional insured however, PCIC disclaimed coverage based on certain exclusions in the policy.  Nadkos sought a declaratory judgment that the policy obligated PCIC to defend and indemnify Nadkos in the employee's personal injury action.  Nadkos also maintained, without any objection from PCIC, that the disclaimer was untimely and that therefore, based upon Insurance Law §3420(d)(2), the disclaimer was invalid.
PCIC moved for summary judgment, arguing that §3420(d)(2) was inapplicable to a non-domiciliary RRG.  Nadkos cross-moved for summary judgment alleging that foreign RRGs were required to comply with §3420(d)(2) because of the interplay with Insurance Law §2601 which references Insurance Law §3420(d).  Nadkos alleged that PCIC was barred from all coverage defenses.  The Supreme Court granted PCIC's summary judgment motion dismissing the complaint and denied Nadkos' cross-motion.  The Appellate Division affirmed, finding that an insurance coverage disclaimer is not disclosure of coverage within the meaning of Insurance Law§2601(a)(6), and, therefore, Insurance Law §3420(d)(2) requiring a prompt disclaimer did not apply to non-domiciliary PCIC.
Nadkos sought leave to the Court of Appeals which was granted.  The Court of Appeals affirmed.  Judge Rivera of the Court of Appeals framed the issue whether PCIC's disclaimer was regulated by the Insurance Law §3420(d)(2) which turned on whether the reference to an insurer's failure to promptly disclose coverage in §2601(a)(6), includes the timely disclaimer requirement of §3420(d)(2).
The Court of Appeals rejected the statutory interpretation advocated by Nadkos because the prohibition on unfair settlement practices based on the failure to promptly disclose coverage encompasses the mandates of Insurance Law §3420(d)(1) not (d)(2) which requires a prompt disclaimer.  The Court of Appeals found that §2601(a)(6) applied solely to those portions of § 3420(d) (1) that require prompt disclosure of coverage with specific information.  The Court of Appeals found that by requiring insurers to confirm the existence of an applicable liability policy and to specify the limits of its coverage, the requirement in §3420(d)(1) falls within the general meaning of a "disclosure".  Conversely, an insurer does not disclose coverage by merely notifying the insured that it is not or will not provide coverage, which is a notification required by §3420(d)(2).
The Court of Appeals found that if the legislature had intended Nadkos interpretation as argued by the dissent, it would have used the simpler, more direct language of this alleged more expansive construction.  In the dissent, Judge Wilson argued that the majority ruling takes New York out of the mainstream and declares that contrary to the national consensus, common sense and plain text of our insurance laws, the legislature intended to make an insurer's refusal to confirm or deny coverage promptly, not an unfair claims practice.
This case carves out a new rule for nondomiciliary insurers which is quite different from licensed New York State insurers.  When dealing with a coverage issue with an RRG, the possibility of a disclaimer even late in the litigation, will now be a distinct possibility since foreign RRG's are not required to disclaim "as soon as is reasonably possible".  When facing a potential coverage issue with a foreign RRG, the insured may want to consider a proactive declaratory judgment action rather than wait for an 11th-hour disclaimer.
Should you have any questions, please call Thomas M. Bona