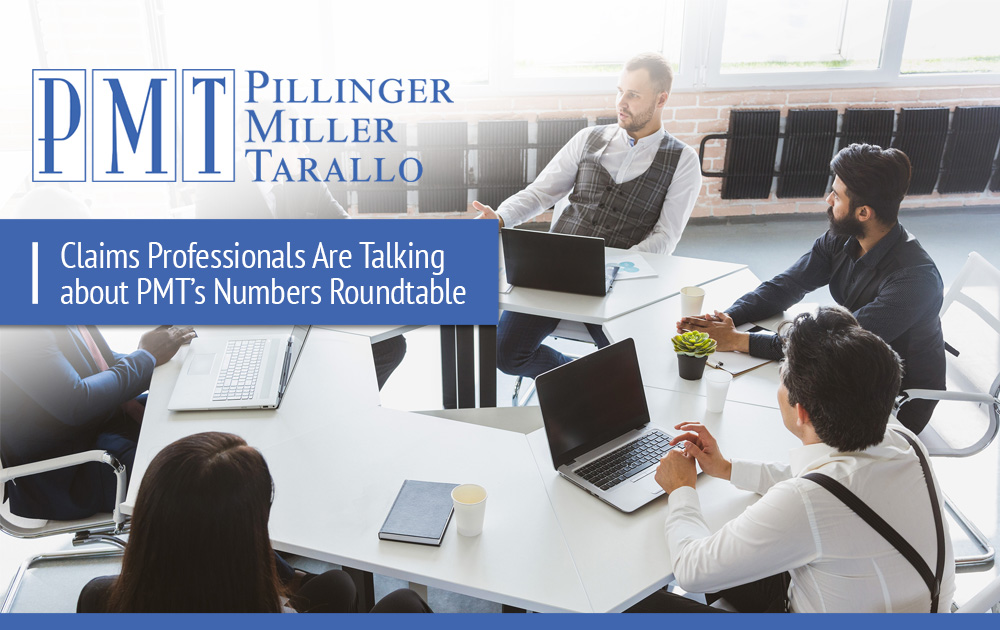 By Thomas M. Bona.
At Pillinger Miller Tarallo, LLP, our clients experience the PMT Advantage with our distinctive and proprietary process, the Numbers Roundtable. For every case, your assigned attorney presents a synopsis to six senior partners, each with over 20 to 30 years of experience. The senior partners question all aspects of the case: venue, liability, injuries, medical records, pleadings, the assigned judge, and plaintiff counsel, among other factors. With subjective biases eliminated, the Numbers Roundtable consistently delivers the acceptable range for verdict value and settlement value that our clients can count on.
The laser-focused result of the PMT Numbers Roundtable is the reason our clients share:
"The Numbers Roundtable is a unique and thoughtful approach to producing Verdict/Settlement values."
"Our Claims Department relies on the PMT Numbers Roundtable because it has consistently proven correct."
"It makes perfect sense."
PMT Executive Partner Jeff Miller says, "There have been countless instances where plaintiffs have rejected settlements based on our Numbers Roundtable values only to have a jury come back with a lower monetary damages verdict. PMT Numbers Roundtable is incredibly accurate and gets the correct verdict and settlement values over 98% of the time."
Respected throughout the insurance industry, the PMT Numbers Roundtable achieves such a high standard that carriers often request it to seek a second opinion on cases they are assigned. When critical early evaluations are required, carriers often use PMT's Numbers Roundtable to evaluate their risk accurately. They use the result of our Numbers Roundtable to establish parameters for high/low arbitrations and high/low agreements at trial.
Let us show you how the PMT Numbers Roundtable can help navigate your cases to a successful resolution.
---
Should you have any questions, please call our office at (914) 703-6300 or contact:
Jeffrey T. Miller, Executive Partner
jmiller@pmtlawfirm.com
Thomas M. Bona, Partner
tbona@pmtlawfirm.com