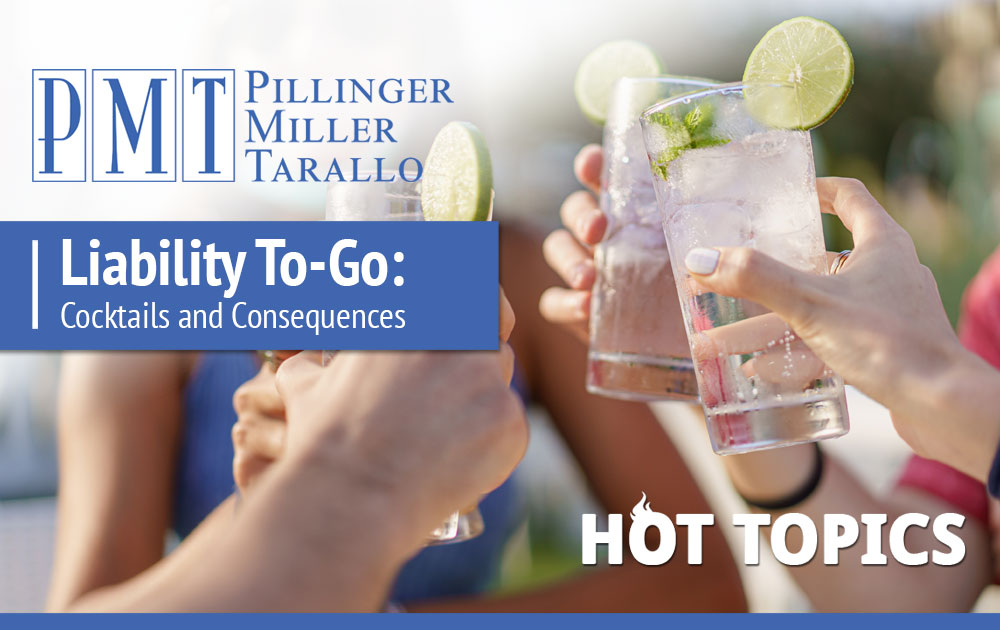 By Jeffrey T. Miller and Thomas M. Bona.
July 2022 Update
To-Go Drinks Renewed Legislation
Following more than two years from the onset of the pandemic, businesses continue to adapt to the new and ever-changing world in which they operate. During the early stages of lockdown in 2020, restaurants and bars were forced to cease all indoor and outdoor dining. As a result, many of these businesses suffered a harsh financial blow due to diminished sales and lost revenue.
Despite restrictions rendering indoor and outdoor dining unattainable, many states attempted to reduce financial hardship. For instance, states such as Delaware, New Jersey, and New York authorized temporary takeout and delivery sales of alcohol with the hope that many businesses would eventually regain some financial footing.
With decreasing COVID numbers, many states were conflicted about whether to permanently extend the "to-go" delivery sales of alcoholic beverages. Although many states were uncertain, the decision became a relatively simple one. On June 23, 2021, Governor Cuomo announced the end of the state disaster emergency, placing an immediate bar on pandemic-related privileges such as alcohol delivery and to-go alcoholic beverages. This ban became effective on June 24, 2021. With many businesses dismayed, it seemed as though New York residents would no longer enjoy the effortless bliss that accompanied the delivery of their to-go alcoholic beverages.
However, a new shift occurred with the introduction of New York's new Governor, Kathy Hochul. Governor Hochul promised to introduce legislation that would permanently allow the sale of to-go drinks for bars and restaurants. Effective on April 9, 2022, bars, restaurants and taverns throughout New York were free to sell alcohol for off-premises consumption. Although this idea of independently selling alcohol looked promising to all bar and restaurant owners, the legislation only authorized cocktails to go for three years. Additionally, this new legislation established more rules and regulations for restaurants, bars, and tavern owners.
According to Senate Bill S8005c, all to-go alcohol beverages must be sold with a "substantial" food item. "Substantial" food items are sandwiches, soups, or other foods, whether fresh, processed, pre-cooked, or frozen. However, foods such as bowls of chips, nuts, or candy do not meet the "substantial" food test requirements. New York provides that any "obvious efforts to circumvent the law," meaning selling an unreasonably small portion of food, will be "treated as a violation of the law."
Further identified in this bill, alcohol in New York must be securely sealed and cannot be in its original form. The alcoholic beverage must be packaged in a container that has a secured lid or a sealed cap. This design must prevent consumption without the removal of either the cap or the lid. All to-go beverages must adhere to any applicable state and municipal laws, ordinances, regulations, or rules related to open containers. Perhaps more importantly, the bill states that the restriction cannot be circumvented by selling the equivalent of a bottle, such as a carafe.
The most integral part of this bill deals with the transportation and delivery requirements of to-go alcoholic beverages. The bill states that deliveries must be made in a vehicle owned and operated or hired and operated by the licensee or its employees. Further, employees can use their vehicles to deliver, but a copy of the permit or license must be present in all vehicles while making deliveries. When delivering the alcohol, the delivery must be made to a residential address of a person 21 years of age or older. This person may not be intoxicated upon delivery. The deliverer must require the recipient to provide valid identification, including a photograph, indicating that they are at least 21 years of age or older.
Finally, the bill indicates that there cannot be any special deals for to-go drinks. It states that the price per serving shall be the same as if consumed on-premises and shall not be sold as part of any promotion or special unless the promotion or special is also available for consumption when on the premises of the restaurant or bar.
As mentioned earlier, New York was one of the first states that extended this legislation. Following New York, other states such as New Jersey and Virginia have taken the initiative to extend this type of legislation with slight modifications. For instance, New Jersey has followed New York in allowing alcoholic retailers to sell to-go drinks, but mixed drinks may not exceed 16 fluid ounces per drink. Additionally, Virginia law allows restaurants to set different prices for their to-go cocktails before 9 p.m. In contrast, New York requires the cost per drink to remain consistent for both on-premises and off-premises sales.
Although to-go drinks have become popular amongst many, the future is still unclear as to whether this type of legislation will continue to receive support. For now, restaurant and business owners may continue to look toward reshaping what was once lost due to a devastating world crisis.
Resources Used:
---
April 2021 Update
When the pandemic first shocked the nation last March, businesses were left no choice but to halt operations and close their doors indefinitely. The days of indoor dining and large public gatherings ceased, stripping restaurant and bar owners of monetary gain at the commencement of an economic crisis. To alleviate some of the financial burdens posed by the restrictions, states enacted temporary guidance facilitating to-go cocktails and alcohol delivery – a concept New York, New Jersey, California, and others gladly embraced. However, this innovative "new normal" may present various liquor liability exposures that licensed establishments should be cautious of.
In the age of food delivery apps, customers can effortlessly order takeout at the touch of a button. Upon browsing select restaurants and various menus, those 21+ can temporarily purchase to-go cocktails to accompany their meal. Given the high-profit margins generated by liquor sales, takeout cocktails have become a saving grace for the foodservice industry, allowing owners and staff to adapt to the unprecedented times and continue their operations.
Despite relaxed liquor laws, the legal age of consumption remains unchanged. Nevertheless, contactless delivery and obligatory mask-wearing hinder proper identification, leaving age verification largely impracticable. Establishments can hardly be certain alcoholic beverages don't fall into the wrong hands. Whereas licensed establishments could formerly check ID before direct alcohol service, the procedure is complicated by the health regulations – primarily when third-party delivery companies work as a middleman.
Likewise, while masks afford protection for us and those around us, the mandate presents a challenge when in-person customers purchase takeout alcohol with half of their faces covered. An underage person may likely be more susceptible to using someone else's ID to buy alcohol with a masked appearance. Establishments must exercise reasonable care and follow appropriate guidelines to safeguard the lawful sale of alcohol.
Although the new and exciting to-go cocktails provide convenience and comfort at home, establishments that sold alcoholic beverages could still face liability. If alcohol is sold to an underage patron who is later hospitalized with alcohol poisoning or involved in a drunk driving accident, the restaurant may be legally responsible. Moreover, bars and restaurants should be conscious of the over-serving and drunk driving of pickup customers. It's impossible to control a patron's conduct after they drive away or following the delivery of their cocktail. Accordingly, establishments can manage their services and should do so.
While laws regarding to-go cocktails vary by state, establishments should rely on state guidance and implement best practices to protect against liability. Considerations include age verification upon delivery or pickup and sealed cocktails with tamper-proof containers. Some states prohibit alcohol delivery through third-party providers, requiring the cocktails be delivered by an employee of the establishment, aged 21 or older, to minimize the inconsistencies that present a risk.
As restaurant capacity limitations are easing, it's unclear whether takeout alcohol is here to stay. Some states, including Delaware, New Jersey, and New York, have filed legislation to expand takeout alcohol guidelines further, asking they be implemented permanently. Establishments and customers alike are optimistic about the future of to-go cocktails, hopeful this novelty will continue to reap enjoyment from coast to coast.
---
Should you have any questions, please call our office at (914) 703-6300 or contact:
Jeffrey T. Miller, Executive Partner
jmiller@pmtlawfirm.com
Thomas M. Bona, Partner
tbona@pmtlawfirm.com