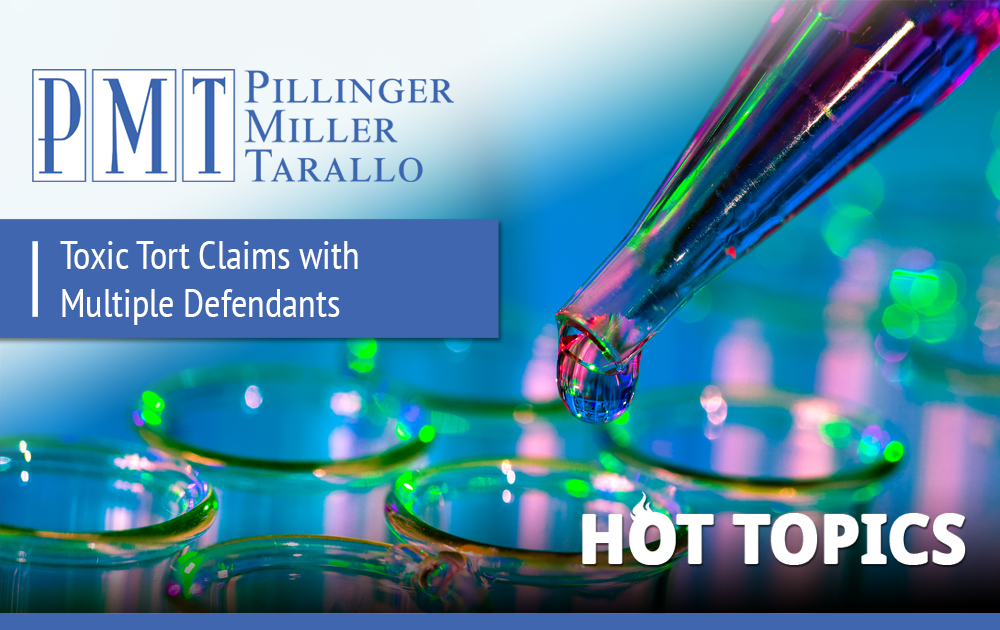 Toxic torts are claims resulting from the plaintiff's exposure to toxic substances from the defendant's action. Toxic tort claim damages can be awarded for non-injury claims such as medical monitoring, fear of developing cancer, and future injuries. For damages such as these, the plaintiff need only prove that the level of exposure in question has the potential to cause an injury, and the exposure must more than double the risk of harm. The diluted need to have a present injury differs from the traditional causation element of negligence and opens up the floodgates to speculative claims. 
Moreover, the issue of causation in toxic tort claims is the additional causation issue that arises when there are multiple defendants. For example, in a case dealing with asbestos, a plaintiff might bring suit against numerous parties such as the premises owner, the property manager, and contractors. In these instances, the plaintiff must show that a particular defendant is the proximate cause of the claimed injury. When there are multiple sources that may have caused the injury, plaintiff expert testimony often fails to establish a "but for" cause due to a lack of scientific data. 
Plaintiffs regularly rely on epidemiological studies, which do not pinpoint the actual source of injury and instead describe the excess risk of exposure. The lack of certainty in the virtue of science poses hurdles to proving causation by the preponderance of the evidence. Claims by plaintiffs for long-term exposure, such as working with toxic chemicals at a worksite, have increased difficulty in proving specific causation. The immediate onset of injury due to exposure is unlikely in many instances, and the passage of time allows for intervening causes. 
In accordance with the complexity of proving causation in toxic tort claims, there are often insurance coverage disputes. Due to the difficulty in determining who or by what mechanism the injury occurred, insurance carriers will disagree over their obligations to defend and pay for damages. Even in cases with one defendant, if the asserted injury has multiple exposures over some time, the defendant may have had several insurance carriers during this period. Multiple carriers lead to similar arguments between carriers in cases with multiple defendants. 
Additionally, nearly every insurance policy excludes intentional acts, and many also contain pollution exclusions. Not only is there a challenge on what to cover, but there is a challenge to have coverage, if at all. 
In late November of 2017, the New York Supreme Court, in American Home Assurance Company v. Port Authority of New York & New Jersey, held that the insurance policy in question does not require injury during the policy period to have coverage. A previous First Department ruling in Continental Casualty Co. v. Employers Insurance Co. of Wausau relied on New York's "injury-in-fact" standard: that only diagnosable asbestos-related diseases trigger coverage for asbestos-related personal injury claims. Instead, the Supreme Court in American Home found that because the policy did not contain any provisions that required an underlying injury to trigger coverage during the policy period, it would be inconsistent with a plain reading of the policy to assume otherwise. 
---
Should you have any questions, please call our office at (914) 703-6300 or contact:
Marc H. Pillinger, Executive Partner
mpillinger@pmtlawfirm.com
Jeffrey T. Miller, Executive Partner
jmiller@pmtlawfirm.com