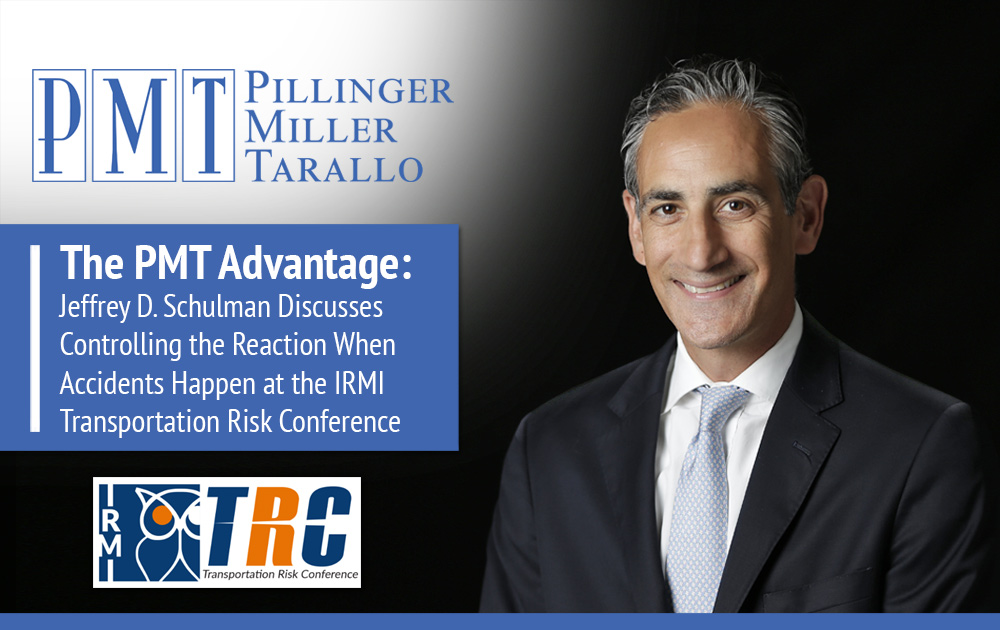 By Thomas M. Bona.
The PMT Advantage means constantly supporting our clients and industry professionals' efforts to mitigate risk. In Transportation & Trucking, nothing is more important to risk management than controlling the reaction when accidents happen. At IRMI in Des Moines, IA, Executive Partner Jeffrey D. Schulman spoke with a panel that included Unit Claims Manager at the Old Republic, Elizabeth Briggs, and expert engineer Al Dunn, Ph.D. from SEA, Ltd.
A broad, vibrant and interactive discussion was had to address current trends in claims handling, and the pressures of litigation in an economy rattled by inflation and recovering from a global pandemic. Though trends ebb and flow, specific keys to managing claims remain steadfast. Issues such as early investigation, identifying experts, and working quickly with first responders, municipalities, and witnesses were deliberated in a lively dialogue with industry experts. Mr. Schulman discussed managing physical evidence and electronic data and having experienced experts on the ground who remain incredibly effective in defending claims and controlling the narrative.
Presenting real-world examples and current trends, Jeffrey D. Schulman and the esteemed panel addressed the details of rapid response as the most critical means to controlling the reaction when accidents happen.
The PMT Advantage means keeping you updated on issues affecting your industry. Let us show you how.
---
Should you have any questions, please call our office at (914) 703-6300 or contact:
Jeffrey D. Schulman , Executive Partner
jschulman@pmtlawfirm.com
Marc H. Pillinger, Executive Partner
mpillinger@pmtlawfirm.com
Jeffrey T. Miller, Executive Partner
jmiller@pmtlawfirm.com
Thomas M. Bona, Partner
tbona@pmtlawfirm.com