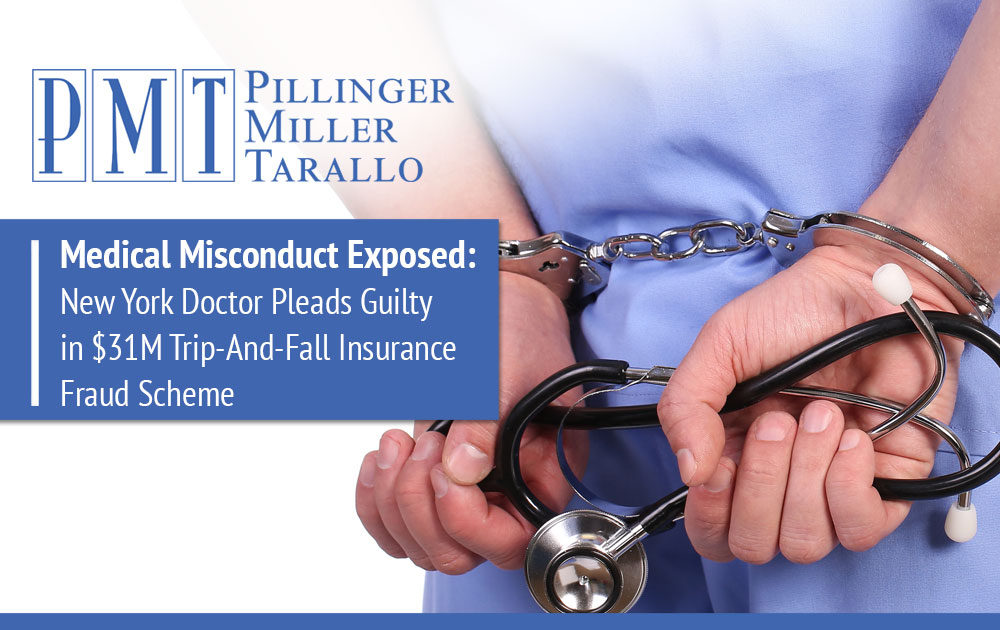 In connection with an elaborate scheme to obtain false insurance reimbursements and other compensation from fraudulent trip-and-fall accidents, SADY RIBEIRO, a New York-licensed pain management doctor and surgeon, has pled guilty to one count of conspiracy to commit mail fraud and one count of conspiracy to commit wire fraud, according to the United States Attorney for the Southern District of New York. Ribeiro is the second defendant in the case to enter a guilty plea in front of United States District Judge Sidney H. Stein. Ribeiro is the second defendant to submit a guilty plea in this matter. Before, ADRIAN ALEXANDER, the owner of a litigation funding firm also involved in the trip-and-fall fraud scheme, pled guilty to one count of conspiracy to commit wire fraud.
U.S. Attorney Damian Williams states in the press release: "As alleged, Sady Ribeiro abused his professional license and position of trust by performing medically unnecessary surgeries to increase the value of fraudulent trip-and-fall lawsuits. In carrying out the scheme, Adrian Alexander, who funded many of the fraudulent lawsuits, Sady Ribeiro, and their co-conspirators preyed upon the most vulnerable members of society in order to enrich themselves. Ribeiro and Alexander now await sentencing for their reprehensible crimes."
According to the indictment, Ribeiro and Alexander were just two participants involved in the large-scale fraud scheme – staging trip-and-fall accidents and filing false lawsuits based on those staged accidents to defraud businesses and insurance companies. It is alleged that more than 400 vulnerable patients fell victim to the fraud scheme, as medical practitioners would instruct the patients to claim they had tripped and fell at a particular location when, in reality, no such accident occurred. Eventually, patients were directed to stage the trip-and-fall accidents to ensure they would be transported to the hospital and obtain medical documentation to make the fake accidents appear more legitimate.
Patients were then referred to specific lawyers who would file personal injury lawsuits against the owners of the accident sites and/or the insurance companies of the owners of the accident sites after the staged trip-and-fall accidents. They were further instructed to continue receiving chiropractic and medical treatment from specific doctors. The participants in the fraud scheme informed the patients that if they wanted to continue with their lawsuits, they would need to have surgery.
Recruited patients were generally offered a payment between $1,000 and $1,500 as an incentive for completing surgery. Members of the fraud scheme frequently targeted extremely poor individuals that appeared desperate enough to undergo surgeries in exchange for meager compensation. Additionally, it was common for scheme participants to recruit drug addicts and homeless persons from NYC shelters.
Litigation finance firms, including that owned and operated by Adrian Alexander, typically covered the patients' medical and legal costs. Even if the patients maintained adequate medical insurance, the legal and medical fees were usually paid for by litigation funding companies. The funding companies charged the patients enormous interest rates, sometimes as high as 50% on medical loans and 100% on personal loans, in exchange for paying the patients' medical and legal expenses.
As part of the plea agreements, Ribeiro and Alexander have each been ordered to make restitution in the amount nearing $4 million. Both defendants await sentencing before U.S. District Judge Sidney H. Stein, with Alexander scheduled for November 30, 2022 and Ribeiro scheduled for January 5, 2023. PMT intends to have a lawyer present at the sentencing.
---
Should you have any questions, please call our office at (914) 703-6300 or contact:
Marc H. Pillinger, Executive Partner
mpillinger@pmtlawfirm.com
Jeffrey T. Miller, Executive Partner
jmiller@pmtlawfirm.com