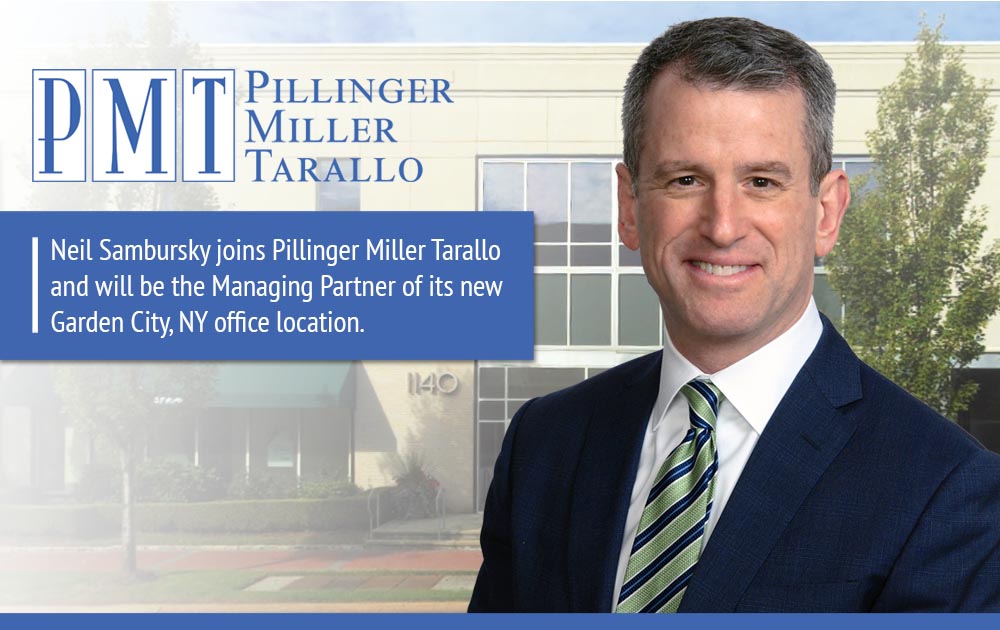 For the past several years, the PMT Law Firm (Pillinger Miller Tarallo, LLP) has provided excellent client service and has experienced exceptional growth.
In addition to our 7 current locations, we are delighted to announce our new Garden City, New York location.  The new PMT Garden City office is in the heart of Long Island's legal community and will allow us to provide better and more convenient service to our clients in Queens, Nassau and Suffolk County. Jeffrey Miller, one of the founding partners of the PMT Law Firm said, "we are excited to expand and further service our clients more efficiently."
We are also extremely pleased to announce that Neil Sambursky joins PMT as the Garden City office's managing partner. With more than 30 years of litigation experience and a wide-ranging defense and insurance coverage practice, Neil expands the breadth of services we provide.  Neil is admitted to practice in New York and New Jersey; he has an active defense and insurance coverage practice in all of the state and federal courts in both states.
Neil serves as national product liability counsel to a Fortune 100 company.  Neil's insurance defense practice in New York and New Jersey includes all types of civil matters including asbestos, construction defect, construction accidents, including New York Labor Law, environmental, toxic tort, and every other type of premises liability case.  Neil's insurance coverage practice is equally diverse.  Neil both prosecutes and defends insurance declaratory judgment actions and is regularly called on to issue coverage opinions for claims under the first-party property, environmental, general liability and professional liability policies.  Neil has succeeded for his clients on motion, at mediation and trial, and at the appellate level.
As to Neil's joining PMT, Jeffrey Miller said, "Neil is a great addition to the firm.  He is a sought-after defense and insurance coverage attorney.  He is a great lawyer with a tremendous reputation and we are excited to have him on board."
The new Garden City New York office information is:
Pillinger Miller Tarallo, LLP
1140 Franklin Avenue, Suite 214
Garden City, NY 11530-1675
Ph:  516-408-5388
Fx:  516-408-5389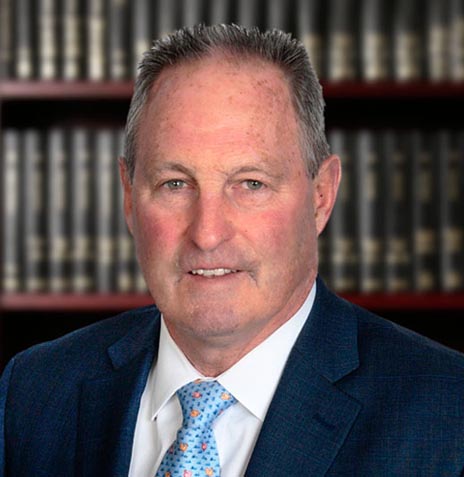 John T. Rafter also joins the new Garden City office, adding 40 years of experience to PMT. He has defended a wide variety of personal injury and property damage cases. He has litigated successfully hundreds of cases in both federal and state courts. Mr. Rafter has defended owners, contractors, and subcontractors in multiple, high exposure Labor Law cases. He has lectured on behalf of the New York State Bar Association and is a member of the New York State Bar Association Trial Lawyers Section and Torts Insurance and Compensation Law Section. Mr. Rafter has also served as a Village Justice in his community for over twenty years.
The PMT Law Firm will now have 4 New York locations to better serve our clients throughout the entire State. In addition, PMT has offices in Connecticut, Pennsylvania, and New Jersey. PMT now has over 60 attorneys to service our clients and will continue to grow.
PMT has handled thousands of cases in the areas of complex environmental and toxic tort, asbestos, construction/labor law, products liability, professional liability, premises, automobile/no-fault, transportation and trucking, dram shop, employment practices, insurance coverage, non-profit organizations, subrogation, workers' compensation, general liability, as well as municipal law matters.
In the tradition of our founding partners Marc Pillinger, Jeffrey Miller, Nicholas Tarallo, and the entire PMT Law Firm team, our primary objective is the swift, cost-effective resolution of cases with the most favorable outcome possible for our clients. Our Firm is AV rated by Martindale Hubbell, the highest rating achieved only by a select group of law firms nationwide after a rigorous screening process.
We look forward to continuing to provide you with superior legal representation, excellent communication, and service, as well as multi-state coverage.
Please feel free to contact us.
Thank you,
PMT Law Firm