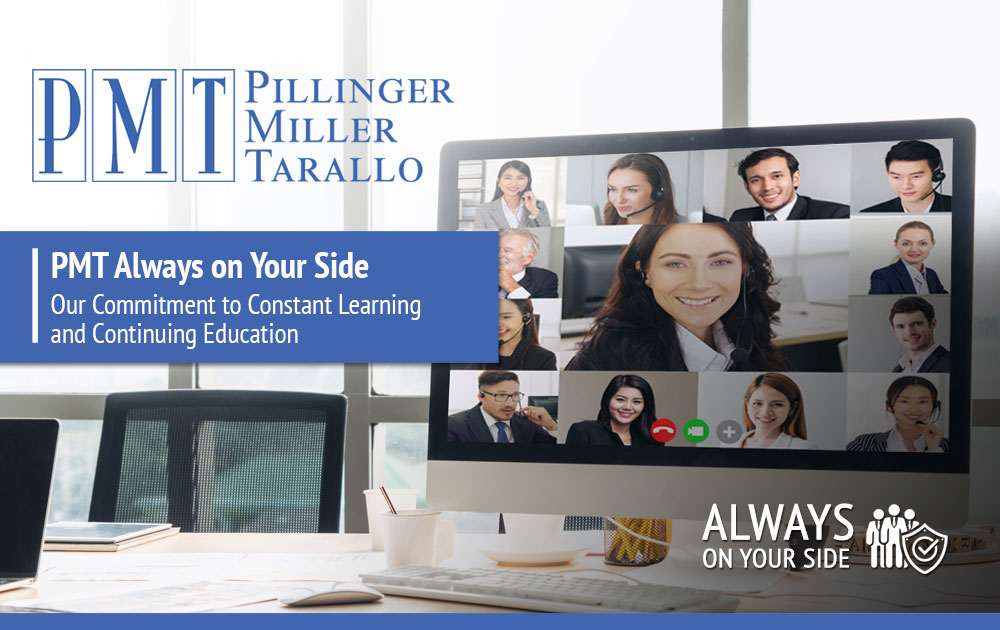 By Thomas M. Bona.
One of the ways PMT is Always on Your Side is by serving as your trusted adviser and counselor.
We believe that we are charged with the duty to keep our insurance carriers, adjusters, and clients informed and advised of changes in the law and how that will affect them. We continuously review the latest court decisions in all our jurisdictions and practice areas, searching for any decisions that our clients should know. We then proactively counsel our clients about how any changes will impact their business. We also monitor legislation in our jurisdictions for any changes and how that might affect our clients.
We are passionate about continuously educating our insurance carriers, adjusters, and clients. We have a team of attorneys who are well-seasoned experts in their practice areas. We have arranged for adjusters to receive continuing education credit(s). We take our mission seriously by providing webinar training sessions to insurance carriers and third-party administrators such as:
James River Insurance
Cincinnati Insurance
Greater New York Insurance
Golden State Adjusters
Gallagher Bassett
Sedgwick
Our commitment to sharing our knowledge and expertise means that we look at current events and use that to create webinar programs such as lecturing Special Investigations adjusters about "Fraudulent Activity Awareness and the Struggling Economy." Marc Pillinger, one of our founders and executive partner, has lectured the New York State Academy of Trial Lawyers on "Understanding NY's Wrongful Death Statute ." Talene White talked to the Bronx Bar Association on "The Use of Quasi-Judicial/Non-Judicial Decisions in Litigation."  John Tambascia and Thomas Bona provided a webinar to the Delaware Claims Association on "Fundamentals of Claims Management" and "Claims Challenges, Negotiations, and Ethics."
At PMT, we are always seeking to provide cutting-edge knowledge. We partnered with St. John's Greenberg School of Risk Management to present our inaugural conference series on "Risk Management 2020: Hot Topics and Cool Solutions" with a panel of our partners, insurance professors, and industry experts.
In sum, with PMT Always on Your Side, you always have access to the most current legal and claims knowledge available. You will never worry that there has been a change in the law you are not fully aware of and how it will affect you.  Let us show you how PMT is Always on Your Side.
---
CLE & CE Webinar Registration Form
---
Should you have any questions, please call our office at (914) 703-6300 or contact:
Jeffrey T. Miller, Executive Partner
jmiller@pmtlawfirm.com
Thomas M. Bona, Partner
tbona@pmtlawfirm.com