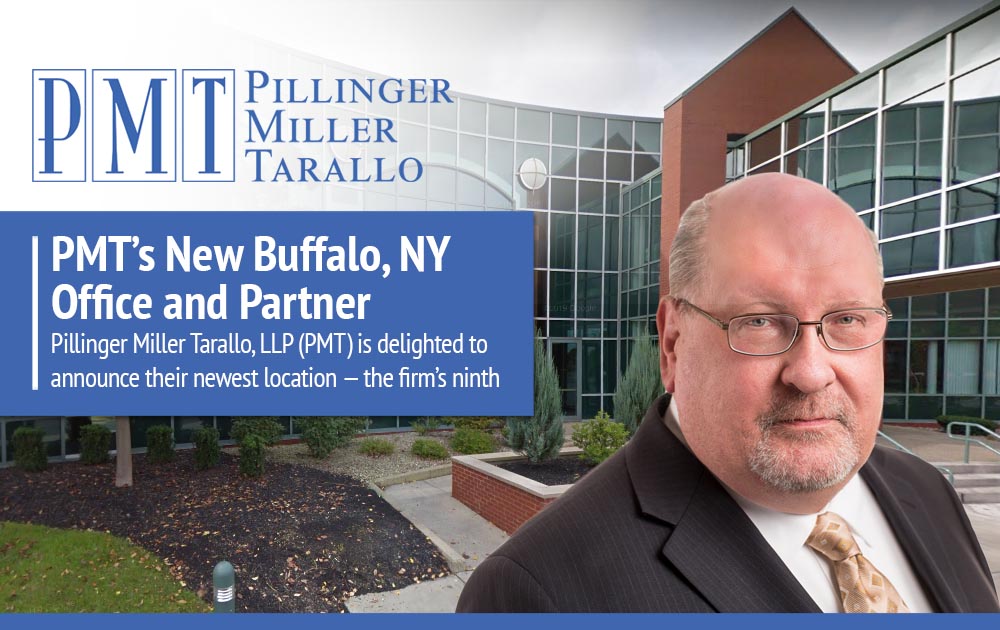 PMT's new Buffalo NY office location and new partner combine to enhance service to clients
The law firm of Pillinger Miller Tarallo, LLP is delighted to announce their newest location — the firm's ninth. The new office is located at 500 Corporate Parkway, Suite 106, Buffalo, New York 14226. This location allows PMT to expand their reach and better serve the firm's clients. Upon opening the office, Jeffrey Miller, one of the founding partners of the PMT Law Firm said, "We are excited to expand into Buffalo, NY. Not only does it have a special place in my heart as a SUNY Buffalo Alum, but it is a vibrant city that PMT has been servicing for over 10 years. To finally have an office in Buffalo fulfills a long-time dream of mine."
You can reach the Buffalo, NY office at (716) 541-0196.
Kenneth A. Krajewski Strengthens the PMT Team
PMT is pleased to introduce Kenneth A. Krajewski who joins our firm as a partner in the Buffalo office. Ken brings a wealth of knowledge and expertise, extensive trial experience and a hometown edge to the Buffalo office. Jeffrey Schulman, who manages PMT Upstate has known and respected Ken for many years as a formidable adversary. He says PMT is "delighted to have him as a member of our firm; we are truly fortunate to have such a skilled litigator join our Buffalo team."
Kenneth A. Krajewski has devoted his career to the practice of personal injury and property damage defense in all areas of insurance defense and civil litigation.
We look forward to continuing to provide you with superior legal representation, excellent communication, and service, as well as multi-state coverage.
Please feel free to contact us.
The new Buffalo, NY office information is:
Pillinger Miller Tarallo, LLP
500 Corporate Parkway, Suite 106
Buffalo, New York 14226
Ph: (716) 541-0196
Fx:  (716) 541-0197