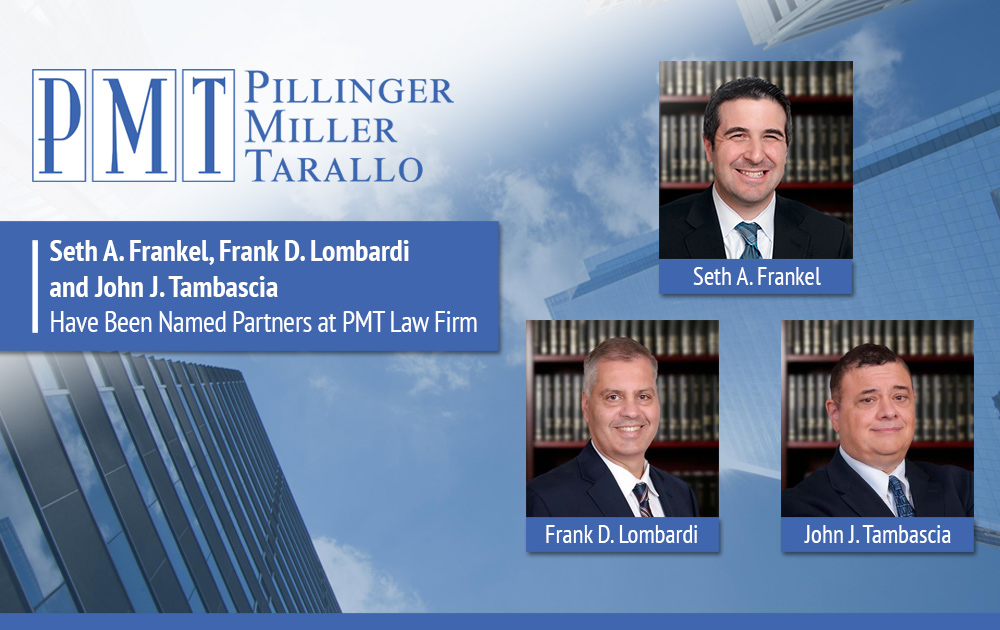 We Are Pleased to Announce Attorneys Seth A. Frankel, Frank D. Lombardi and John J. Tambascia Have Been Named Partners at the PMT Law Firm. 
Each attorney is a talented advocate for the firm's clients and has achieved their current position with persistent and successful work.
Seth's focus is all types of civil litigation, most specifically defending owners, general contractors and subcontractors in construction accident litigation. Seth also has experience defending premises liability, motor vehicle accidents and property damage claims. He is also experienced with all aspects of risk transfer, including demands for indemnification, hold harmless clauses and additional insured coverage.
Prior to joining the firm, Frank had previously been employed by both an outside counsel insurance defense firm and an in-house staff counsel firm to a major commercial insurance carrier. He also worked for a private law firm in Bronx County handling personal injuries cases and real estate transactions for individuals and on behalf of lending institutions in New York City and the lower Hudson Valley area of New York.
John has over 20 years of experience in handling all aspects of complex civil and malpractice litigation. His areas of practice include professional malpractice, products liability, construction, premises, motor vehicle, and cargo litigation. John developed his considerable skills as a trial attorney in the state and federal courts of New York, New Jersey, and Pennsylvania. He has pioneered the use of scale models to evaluate complex cases. The multiple perspectives of scale models allow him to definitively establish how an event happened.
---
Should you have any questions, please call our office at (914) 703-6300 or contact:
Marc H. Pillinger, Executive Partner
mpillinger@pmtlawfirm.com
Jeffrey T. Miller, Executive Partner
jmiller@pmtlawfirm.com