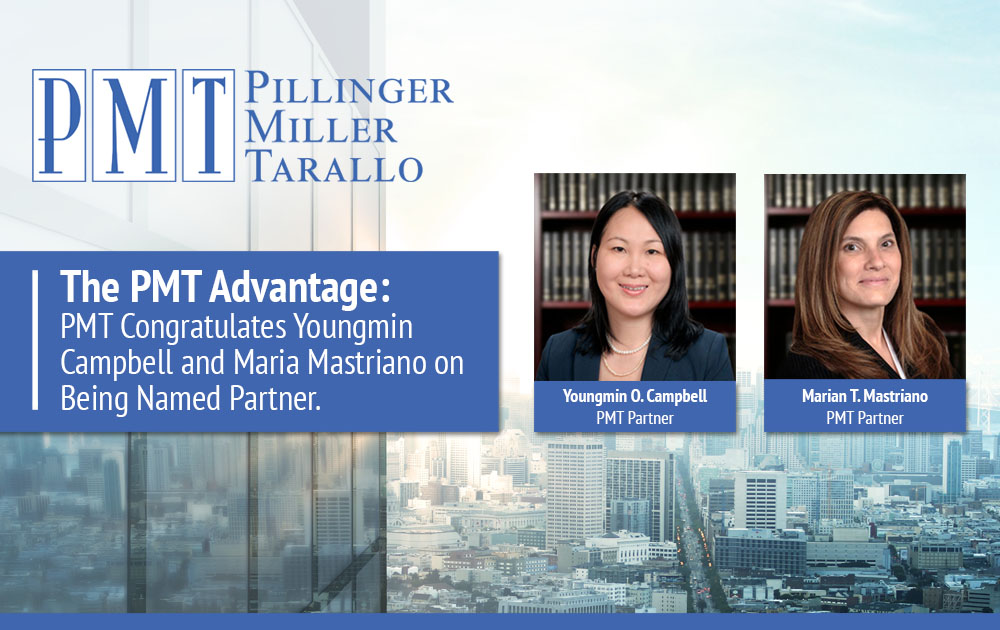 Preeminence is the PMT Advantage. We Provide Outstanding Lawyers. Period.
PMT Congratulates Youngmin Campbell and Maria Mastriano on Being Named Partner.
Their attention to detail and client dedication raises them to a distinguished class of service.
Youngmin O. Campbell
PMT Partner
Youngmin is a seasoned civil litigator who has been successful in defending commercial property owners and tenants in various premises liability matters, contractors and subcontractors in construction/labor law cases and employers in workers' compensation matters. In addition, she has in-depth expertise in complex property damage cases arising out of construction defects, as well as subrogation matters stemming from product defects and water leaks.
Maria Mastriano
Partner
Maria has extensive experience in handling all phases of complex civil litigation in both federal and state court, including managing multi-party and multi-million dollar litigation from the initial stages of discovery to resolution. Maria is also an experienced appellate practitioner who has handled multiple successful appeals. Maria has litigated a diverse case load throughout her career, including construction, labor law, dram shop, environmental, premises, products liability, toxic tort, and general liability litigation.
---
Should you have any questions, please call our office at (914) 703-6300 or contact:
Marc H. Pillinger, Executive Partner
mpillinger@pmtlawfirm.com
Jeffrey T. Miller, Executive Partner
jmiller@pmtlawfirm.com
Jeffrey D. Schulman, Executive Partner
jschulman@pmtlawfirm.com