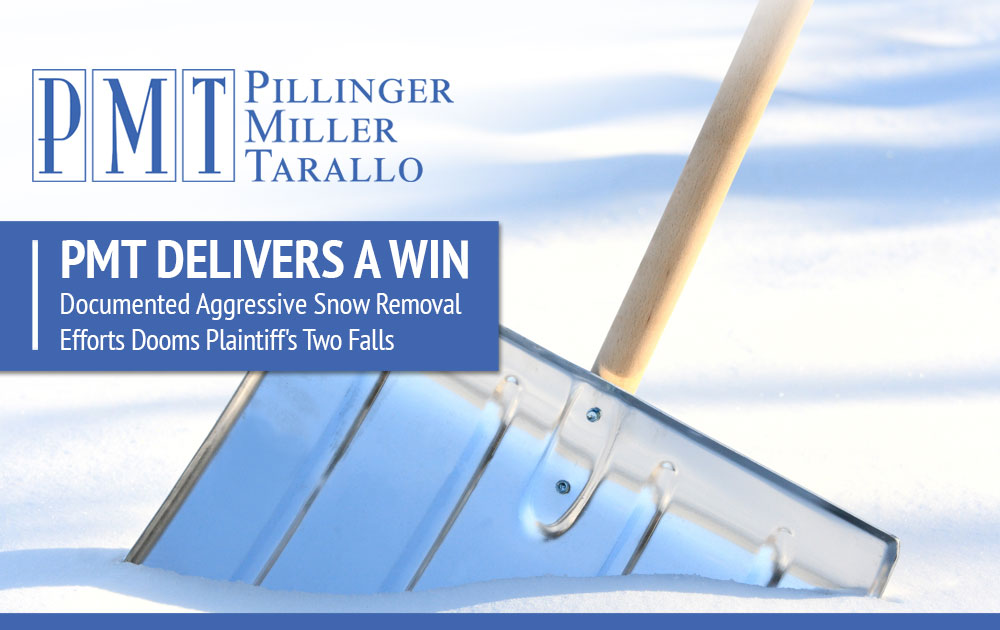 By Maria Mastriano and Thomas M. Bona.
Court: Supreme Court of the State of New York, Oneida County
Judge: The Honorable Erin P. Gall
Case Type: Slip and Fall
Caption: Robert Marion v. CA Kaplan Park Drive, LLC et. Al.
Index No.: EFCA2018-000207
Decision Date: February 18. 2021
Decision: Summary Judgment
Now that spring is coming; we can all breathe a sigh of relief that the worst of winter and snow season is over. But this year, with its above-average number of snowfalls, has produced a steady stream of slip and fall cases. Many of these cases will allege that snow removal was inadequate and caused the fall. One of the important keys to successfully defending these claims is a thorough documentation of snow removal activities. At PMT, we search through our client's records to find the documentation that can help us win cases. A recent case in which we won summary judgment shows how we used the evidence that our clients kept in the regular course of business to defeat the plaintiff's claim.
In Marion v. CA Kaplan Park Drive, the plaintiff fell twice on March 4, 2015, and March 12, 2015, in two different locations in the same complex. Plaintiff claimed that our clients had failed to salt, sand, or address the hazard and danger posed by the ice, and our clients had failed to maintain the property properly and created a dangerous condition.
We moved for summary judgment. We produced evidence that we had a robust snow and ice removal system, which included removing snow if there were two or more inches and routine observation every weekday morning at about 6 AM. We argued that there was no evidence that an icy/dangerous condition existed, and if there was black ice, it was insufficient for us to be aware of it. We submitted the deposition testimony of maintenance workers and the chief of maintenance. We also introduced snow/ice logs that recorded that our client's employees snow plowed and salted in the fall area at 7 AM the morning of the first fall. The logs also indicated that our maintenance crew shoveled and salted all sidewalks at the subject locations between 730 and 9 AM. We further argued that there were no observable icy or dangerous conditions, and we did not receive any notice or complaints of any dangerous condition.
Concerning the second fall, we argued and produced evidence that the area was visually inspected for snow and ice at 6 AM on the date of the fall and that our clients were not aware of any snow or ice condition or had any dangerous condition been reported to them.
Plaintiff opposed the motion and argued that snow and ice conditions had existed for days before his falls at both locations. He alleged that under the ice/slush was packed snow and that when the defendants plowed, they packed the snow and ice and created the condition due to how they plowed and stockpiled the snow next to the driveway. Plaintiff also relied on meteorological reports along with an affidavit from a meteorologist who opined that there was no new snow or ice and that the condition had existed hours and days before the plaintiff's fall.
The court granted our motion and dismissed the plaintiff's complaint. The court found that we met our burden of establishing that we neither had actual nor constructive notice of the icy condition and that the plaintiff had failed to raise a triable issue of fact. The court noted that the weather report describing no recent precipitation was insufficient to establish knowledge even if it suggested that the condition existed for more than 24 hours. The court concluded that any finding as to when the ice patch developed or whether there was adequate time to discover and remedy it could only be based on speculation. The court noted that the plaintiff conceded that he had never contacted the defendant's emergency maintenance phone line to notice the alleged black ice even after he fell. The court found that plaintiff also produced no evidence to support his claim that the defendant's plowing packed down snow and ice and that their plowing methods created a dangerous condition.
Our attorneys constantly look for evidence that will defeat meritless claims and use it to mount an aggressive defense. Let us show you how we can help you get rid of meritless claims.
---
Should you have any questions, please call our office at (914) 703-6300 or contact:
Jeffrey T. Miller, Executive Partner
jmiller@pmtlawfirm.com
Thomas M. Bona, Partner
tbona@pmtlawfirm.com