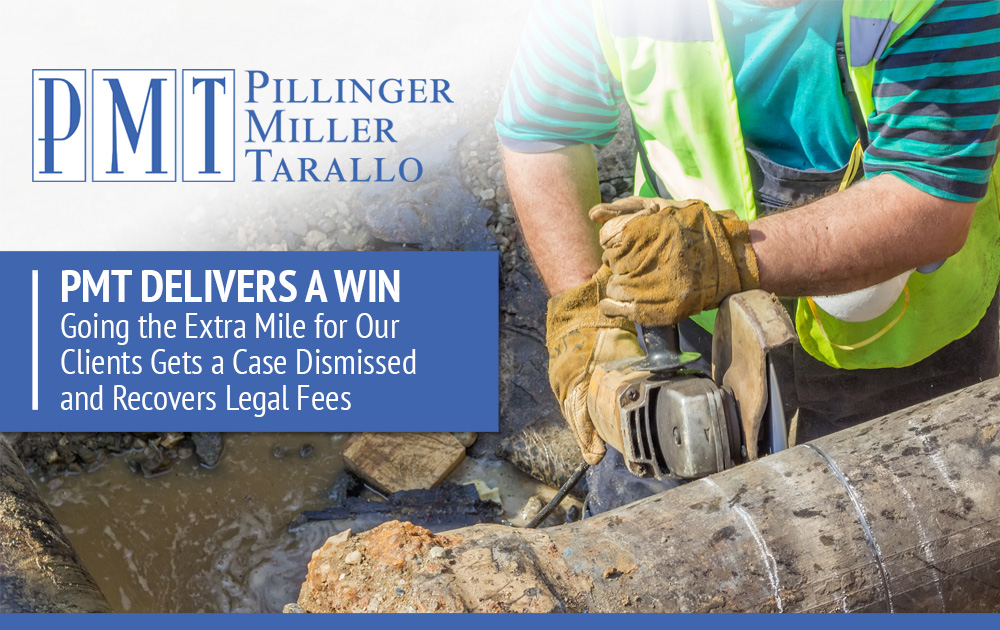 By Maria Mastriano and Thomas M. Bona.
Court: NYS Supreme Court, County of Oswego
Judge: Honorable Brian D. Burns
Case Type:  Labor Law & Contractual Indemnification
Caption: Paliana v. State University Construction Fund et al.
Index No.: Index No. EF2020-148
Decision Date: September 27, 2022
Decision: PMT won summary judgment
When PMT defends a case, we look for every way we can give the client a total win.
A recent case in which PMT won summary judgment demonstrates PMT's wealth of experience in NYS Labor Law and contractual indemnification and is an example of how PMT often elicits and capitalizes on using the plaintiff's testimony to defeat claims successfully. Not only was PMT able to get the complaint dismissed against our clients, but PMT also recovered defense costs for them.
In Paliana v. State University Construction Fund et al., plaintiffs claimed severe injuries for a near leg amputation resulting from the plaintiff's work as a laborer for an excavating subcontractor (Burrell's Excavating, Inc.) on SUNY Oneonta's campus. At the time of the incident, the plaintiff was working to replace an existing water main. Before Burrell's began the water main replacement work, the City of Oneonta (City) shut off the water valve that allowed water to run through the subject water main. After the City shut off the water valves, it appeared the main pipe was no longer carrying any water, and the main had been "de-energized." The Burrell's crew (including the plaintiff) then entered the ditch where the existing main was located and began replacing the water main. While working in the trench, the subject water main was then "re-energized" with water causing the existing water main to push out of the bank, trapping the plaintiff's leg between two pieces of the water main. Plaintiffs brought suit against PMT's Clients, SUCF (owner), and Fahs Construction Group (General Contractor), claiming violations of Labor Law § 240(1), § 241(6), and § 200 as well as common law negligence.
The case presented complex issues, and despite the plaintiff's multi-million dollar settlement demand, PMT could win summary judgment on all claims. The plaintiffs' complaint was dismissed in its entirety. Because of our depth of Labor Law experience, PMT could elicit favorable testimony during discovery on plaintiffs' Labor Law § 240(1) and § 241(6) claims, which resulted in plaintiffs not opposing PMT's summary judgment motion on these points. The Court also dismissed plaintiffs' Labor Law § 200 and common law negligence claims, finding that the City maintained the sole and exclusive ownership and authority to control water flow through its pipes. The Court also held that PMT's client had no legal power or ability to direct the municipality's control over its lines (e.g., as to the method of the water shut off), and as such, SUCF and Fahs did not create a dangerous condition (i.e., the re-introduction of water into the pipe). The Court further held that SUCF and Fahs were not on actual or constructive notice of the alleged dangerous condition, as – PMT pointed out that the plaintiff's testimony established – there were no observable signs that the pipe had been re-energized with water until the incident occurred.
Moreover, the Court agreed with PMT that the plaintiffs' claims regarding what SUCF and Fahs "should have done" to ensure the water main did not become re-pressurized with water was not supported by any qualified expert in a relevant field. Accordingly, even if SUCF or Fahs could exert any control over the municipality's water mains, the plaintiffs did not produce any competent proof to support their contentions as to what PMT's Clients should have done that would have prevented the alleged injuries.
This case was high stakes and complex, with the plaintiff alleging millions in damages. There was an extensive discovery in this case, including 17 depositions. To completely transfer our client's risk, PMT also moved for summary judgment for contractual indemnification against the subcontractor. PMT aggressively pursued every avenue for its clients and argued that even though the complaint had been dismissed, the subcontractor owned both Fahs and SUCF contractual indemnification for attorney's fees and litigation expenses. The Court agreed, finding that the subject indemnification clause was broader in scope than merely requiring indemnification against a potential judgment, Burrell's was obligated to pay PMT's clients for the defense of the action.
By aggressively defending our clients and going the extra mile, PMT successfully not only won summary judgment but also recovered all our clients' defense costs. Let us show you how we can do that for you.
---
Should you have any questions, please call our office at (914) 703-6300 or contact:
Jeffrey D. Schulman , Executive Partner
jschulman@pmtlawfirm.com
Marc H. Pillinger, Executive Partner
mpillinger@pmtlawfirm.com
Jeffrey T. Miller, Executive Partner
jmiller@pmtlawfirm.com
Thomas M. Bona, Partner
tbona@pmtlawfirm.com