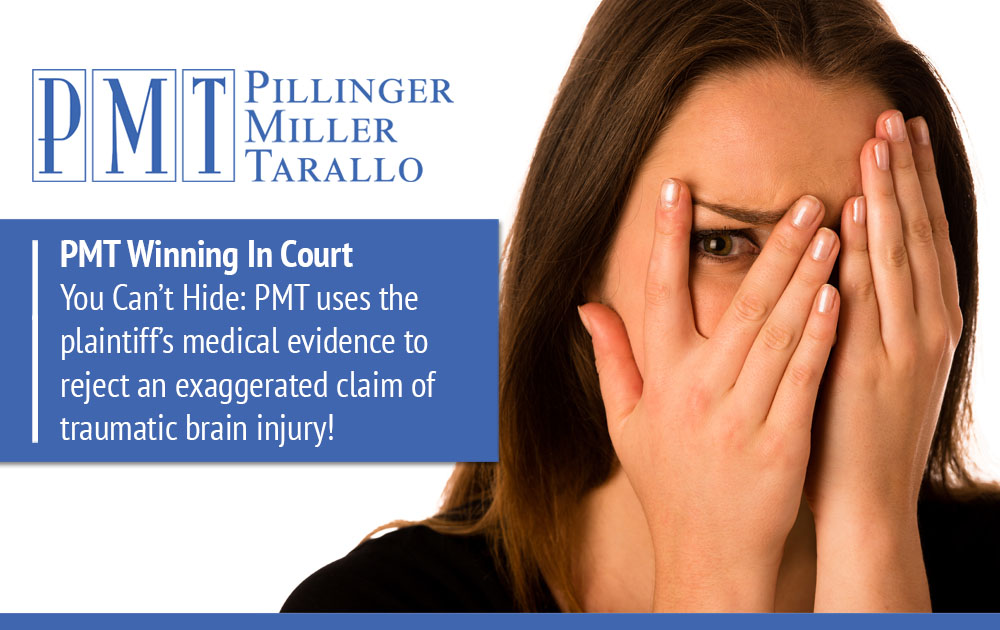 By Thomas M. Bona.
Court: Supreme Court of New York, Suffolk County
Judge: Hon. George M. Nolan
Case Type: Automobile MVA, Traumatic Brain Injury
Caption: Sara J. Schopp v. Michelle Schneider Feldman as Executrix of the Estate of Jill M. Watts, deceased, and Evan Tyler Watts
Index No.: 608005/2017
Decision Date: 12/14/2021
Decision: Jury Deliberated, Defense Verdict
With the proliferation of stress, anxiety, and depression due to the pandemic over the past two years, it can be perilous to allow a jury to decide if a plaintiff has suffered a brain injury due to a low-impact automobile accident. After all, under New York State law, a driver is liable for striking another car in the rear without an explanation. PMT's duty to our client is to find and present the best available evidence so a jury can determine whether a plaintiff's injury is a result of an accident or an exaggeration of pre-existing conditions. The stakes are high: plaintiff's attorney may roll the dice and hope to catch lightning in a bottle with a sympathetic jury who will agree with their claims and render a multi-million dollar verdict. A recent trial exemplifies how our PMT trial team used a plaintiff's existing medical conditions to crush her claims of exaggerated brain injury.
In Schoop v. Feldman, plaintiff, a 31-year-old retail store manager, alleged she suffered a traumatic brain injury. She claimed it resulted from a low-speed rear-end collision while entering the Cross Island Parkway in Bayshore, NY. Our insured, a 25-year-old janitor, acknowledged impacting the rear of the plaintiff's vehicle, and summary judgment on liability was awarded to the plaintiff in 2018. Plaintiff went to the hospital the day of the accident and was diagnosed with a mild head injury without loss of consciousness and a strained neck. After that, she sought treatment with various medical providers and had an MRI of her brain. The MRI performed eleven days after the accident was negative for trauma. Indeed, her own radiologist reported this was a normal scan. Nevertheless, her complaints continued to worsen over the following four years, and she was eventually diagnosed with PTSD and persistent mTBI with resultant depression and anxiety. Plaintiff alleged that her symptoms prevented her from working in the retail field and may even prevent her from ever working again.
At a damages-only trial, the jury was asked to determine whether the accident in question caused the plaintiff's psychological and neurological injuries. She presented two expert witness doctors who testified that a novel MRI technique done a year after the accident showed objective signs of traumatic brain injury. After a detailed review of the medical records, our PMT trial Attorney used the plaintiff's extensive history of depression and anxiety to show the jury that the plaintiff's alleged neurologic symptoms were related to her pre-existing psychiatric conditions and not to any alleged trauma. He was also able to get the plaintiff's experts to agree that neither they nor anyone else could put a time or date on the alleged abnormalities seen in the novel MRI study. The neuropsychologist and neuroradiologist hired by the carrier strengthened this argument.
At closing, the plaintiff's counsel asked the jury for $7.8MM consisting of $304K in future medical expenses, $58K in past medicals, $226K in past lost earnings, $1.8MM in future lost wages, $500K in past pain and suffering, and $5MM in future pain and suffering. Plaintiff demanded the $1.3MM policy to settle before the jury came back, and our insurance company made a final offer of $100K. After just over an hour of deliberations, the jury came back and found that the accident did not cause the psychological or neurological injuries alleged by the plaintiff.
Exposing what a plaintiff would prefer to keep hidden and shining a light on it so the jurors understand what a plaintiff's claim is really about is what our great PMT trial team does. Let us do this for you.
---
Should you have any questions, please call our office at (914) 703-6300 or contact:
Marc H. Pillinger, Executive Partner
mpillinger@pmtlawfirm.com
Jeffrey T. Miller, Executive Partner
jmiller@pmtlawfirm.com