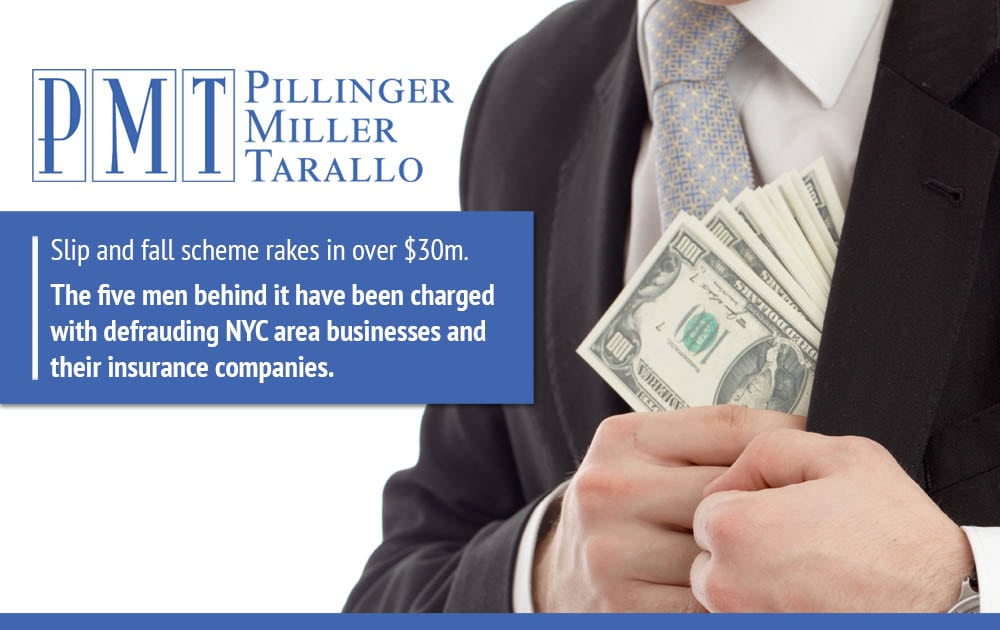 A fraudulent slip and fall scheme has led to the indictment of five New York residents being charged with defrauding New York City area businesses and their insurance companies of more than $30 Million Dollars.
Peter Kalkanis, a former chiropractor, Bryan Duncan, Kerry Gordon, Robert Locust and Ryan Rainford make up the "defendants" who were charged with separate charges of conspiracy to commit mail and wire fraud, mail fraud, and wire fraud in connection with a "criminal slip and fall" scheme in order to obtain fraudulent insurance reimbursement and other compensation.  The above charges carry a maximum sentence of 20 years in prison. Peter Kalkanis, the alleged organizer and leader of the scheme, was also charged with one count of aggravated identity theft which carries a 2 year mandatory prison sentence.
The indictment, which was unsealed on Thursday April 19, 2018, details how the five men set up and operated the slip and fall scheme. According to the indictment, the men started to recruit "participants/patients" in or about January 2013 to the present time. Kalkanis and his co-defendants would identify locations in the City and direct the "participants" to stage slip and fall accidents. In some instances, participants did not stage a slip and fall, but merely were provided with an address which they were instructed to claim was the location where they "slipped and fell".
The defendants then directed the participants to allege they were injured and to seek medical treatment. The defendants even went as far as to direct the participants to assert specific injuries to their bodies, "including the knees, shoulders, and/or back." Participants were then brought to an attorney to represent them in connection with their fraudulent claims.
During the course of the fraudulent scheme, the defendants attempted to defraud the "victims" of at least $31,791,000. The recruited participants were directed to receive ongoing treatment from a chiropractor in order to provide medical records in support of their action, and were referred to specific MRI facility and doctors as well. The defendants further advised the participants that if they intended to continue with their fraudulent lawsuit, they would be required to undergo surgery. As incentive, the participants were offered a payment after they completed surgery as well as a percentage of any settlement payment received from their fraudulent suit. The legal and medical fees were typically paid for by legal funding companies.
Kalkanis, as the organizer and leader of the scheme, paid the other co-defendants to recruit participants and to transport them to their medical appointments and legal appointments. Bryan Duncan, Kerry Gordon, Robert Locust and Ryan Rainford also identified potential accident sites and coached the recruited participants on faking their injuries. Kalkanis was behind organizing the participants' legal and medical appointments and also assisted in procuring the funding for the medical treatment and fraudulent lawsuits.
The five men were charged with violating Title 18, United States Code, Sections 1341 and 1343. Kalkanis was also charged with one count of aggravated identity theft. The indictment claims that on or about November 2014, Kalkanis "knowingly did transfer, possess, and use, without lawful authority, a means of identification of another person, during and in relation to a felony violation enumerated in Title 18 United States Code, Section 1028A(c)."  It is further alleged that Kalkanis used the names and identities of other persons to receive litigation loans in connection with the other offenses charged.
In a recent article, counsel for Kalkanis, Edward Sapone of Sapone & Petrillo LLP, insisted that all of the slip and fall cases "were legitimate" and stated that Kalkanis "maintains his innocence and has faith in the criminal justice system."  Attorney Steven Brill of Sullivan Brill LLP, who is representing Gordon, also maintains his client's innocence saying his client was "doing nothing illegal". Counsel for the other co-defendants have not yet commented.
This indictment has the strong possibility to affect the doctors and lawyers who worked with the recruited clients/patients and may reflect poorly on the credibility of the lawyers who represented and the doctors who treated the participants in this fraudulent scheme. It is incumbent upon defense counsel to search through their files to see if any of their cases could be connected to the alleged scheme.
It will be interesting to see how this criminal case progresses and the developments which come forward through further investigation and discovery. This indictment may also impact the litigation/medical funding companies that make loans to plaintiffs based upon their litigation.
It is impossible to opine at this time what will happen to any funds obtained by the Government as a result of these charges, but the indictment calls for the defendants to forfeit to the United States "any and all property, real and personal, that constitutes or is derived from, proceeds traceable to the commission of said offenses, including but not limited to a sum of money in United States currency representing the amount of proceeds traceable to the commission of said offenses that the defendants personally obtained." We will continue to keep you advised as to the names of the recruited plaintiffs, lawyers and doctors involved in this fraudulent scheme as more information becomes known.