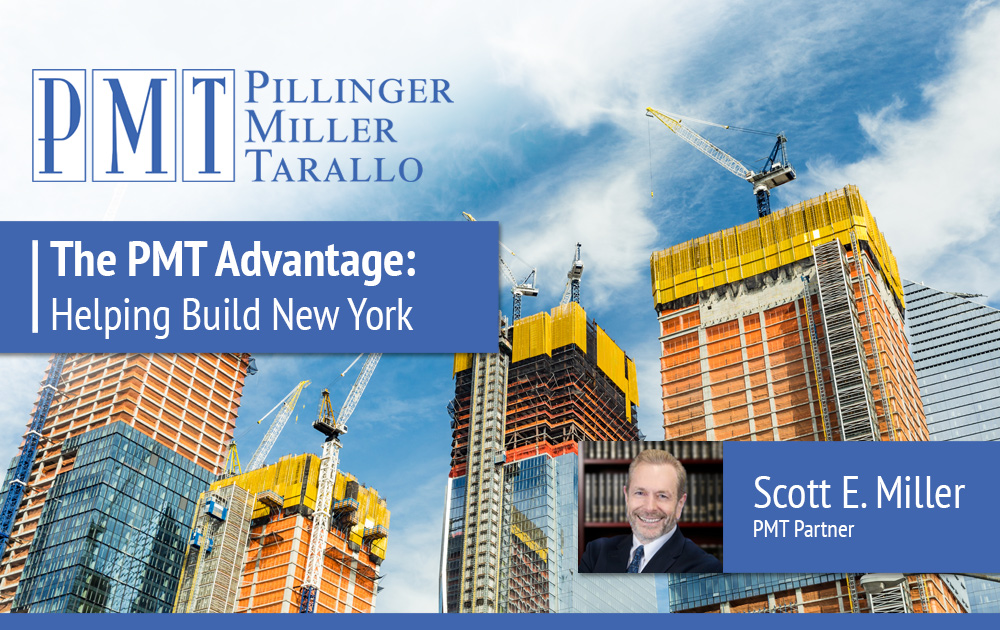 By Scott E. Miller and Thomas M. Bona.
When you look around New York, there is construction everywhere, and one of the most visually striking is the cranes that dot Manhattan's landscape. In a densely packed environment like New York, cranes are a critical part of the construction to move things from ground level to the heights where skyscrapers are built today. Crane and rigging are highly regulated because the safety of so many people is involved, both construction workers and ordinary people going about their activities as the work progresses around them. Being counsel to the crane and rigging industry is no easy task. Years of specialized knowledge are required to understand the complex issues and offer practical advice as an equal.
At PMT, we have one of the crane and rigging industry's leading authorities: Scott E. Miller. For over 30 years, Scott and his legal team have represented the top crane companies in New York and nationwide. His counsel is valued and sought after because of his advice both before and after an accident. One of the most critical advantages of PMT's crane and rigging practice is its rapid response investigation after an accident. Led by Scott and his legal team, our rapid response team quickly arrives at the scene of an accident. 24/7, day or night, we are there to learn the facts, interview witnesses, photograph the accident scene, preserve evidence, and represent the company at the location and afterward with regulatory authorities such as the NYC Department of Buildings and OSHA.
Critically, Scott and his legal team immediately develop risk transfer scenarios through contracts or additional insured status. Experts on retainer come to the scene as appropriate. Because of his vast experience and Industry expertise, Scott and his legal team take a 360-degree hands-on approach to the accident scene investigation so that the client knows what a potential suit is about before a suit is filed. This approach allows the client to continue concentrating on their work while minimizing the distraction of the accident and a potential lawsuit. This proactive approach also prevents an enterprising plaintiff lawyer years later from spinning a false narrative about how the accident happened. So when you look at New York and all the constant construction, you can rest assured because PMT is working right alongside keeping everyone safe.
---
Should you have any questions, please call our office at (914) 703-6300 or contact:
Marc H. Pillinger, Executive Partner
mpillinger@pmtlawfirm.com
Jeffrey T. Miller, Executive Partner
jmiller@pmtlawfirm.com