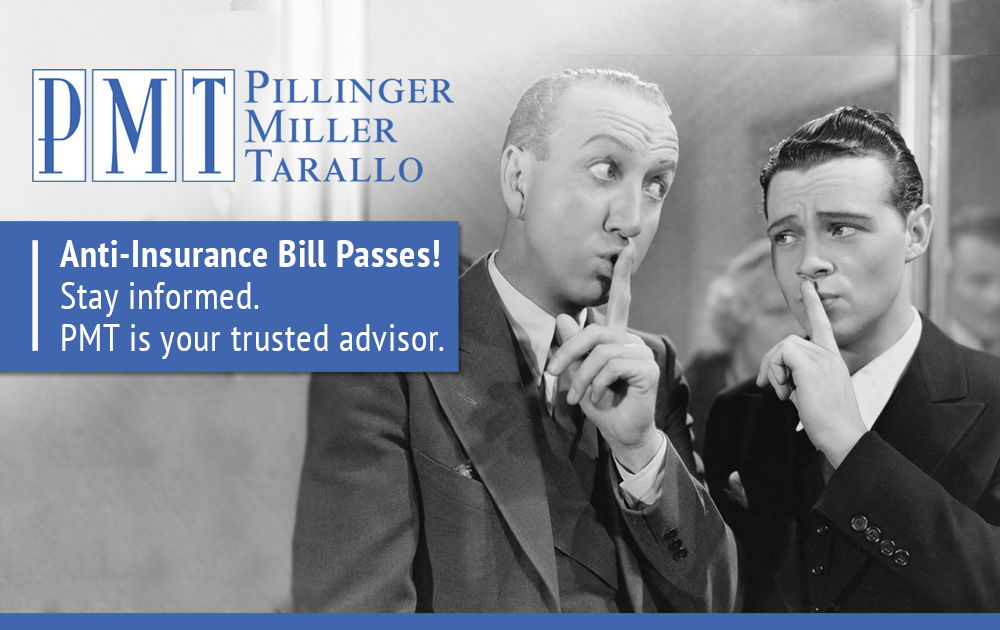 By Thomas M. Bona.
As your trusted advisor, PMT keeps you up to date on legislation that will affect our industry, and we identify trends that could be detrimental. In this case, Executive Partner Marc H. Pillinger of Pillinger Miller Tarallo, LLP recently wrote an article for Insider Engage entitled "New York Under Storm Clouds of Proposed Bad Faith Legislation" about new bad faith legislation (Link). He said, "The proposed law would place insurers on the defensive immediately." Well, as if seeing into the future, a bill has been rushed through the New York legislature with little public comment or input. The bill has passed in both houses of the legislature. It is waiting to go to Governor Hochul for her signature or veto.
At our next PMT/St. John's Greenberg School of Risk Management Conference Series Webinar on November 17, 2-4pm (Link), we will examine this bill and more trends in "Killing the Goose that Lays the Golden Eggs: Will Progressive Legislation and Judicial Decisions do What Natural Disasters Couldn't Do In New York."
Underscoring how the NY Legislature may be making NY less attractive to insurers, an existing insurance disclosure law may be dramatically expanded with possible draconian requirements. Currently, insurance companies are required to provide insurance policy information related to specific claims, including a copy of the policy. Now, under the "Comprehensive Insurance Disclosure Act" within 60 days of filing an answer, the new law would require defendants to provide details about all lawsuits if they involve the same policy, including the contact information for the counsel of all represented parties in each case.
The new law would require defendants to list the name and address of every attorney who has received a fee paid out of the applicable policy. It also requires a defendant to provide the contact information, including telephone number and email address of any person or persons responsible for adjusting the claim, including third-party administrators and persons within the insuring entity to whom the third-party administrator is required to report. It would also require that a defendant, as well as the attorney, certify in a sworn affidavit or affirmation that the information is accurate and complete. The defendant and insurance company are obligated to provide updated information within 30 days of receiving information rendering the prior disclosure inaccurate or incomplete in whole or in part. This obligation exists during the entire pendency of the litigation and for 60 days after the settlement or entry of a final judgment inclusive of any appeals. This legislation would also take effect immediately and would apply to pending actions. Any information not previously provided in a pending case would need to be provided within 60 days after the effective date.
Such draconian requirements would impose significant costs for self-insured businesses, municipalities, and insurance companies. Much of the information required of sued parties would require assistance from the insurance companies themselves, imposing additional costs on them. The bill provides another cudgel to plaintiffs' lawyers to force insurers to settle claims.
Stay tuned as we discuss this and other trends on November 17 in our free PMT/ St. John's School of Risk Management webinar.
Register now to join the webinar, learn more at our website click HERE.
---
Should you have any questions, please call our office at (914) 703-6300 or contact:
Marc H. Pillinger, Executive Partner
mpillinger@pmtlawfirm.com
Jeffrey T. Miller, Executive Partner
jmiller@pmtlawfirm.com