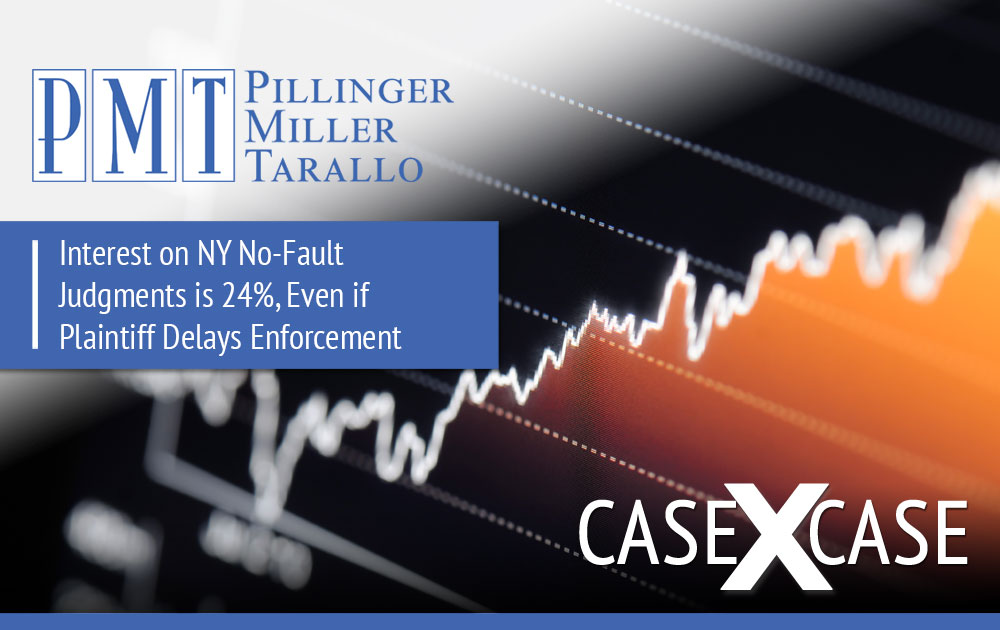 By Lawrence N. Rogak.
The statutory rate of interest on judgments in New York is 9% annually (CPLR 5004). The interest rate on unpaid NY PIP bills is 24% annually (Insurance Law 5106(a)).  So if a plaintiff gets a PIP judgment and waits a long time before attempting to collect it, interest should accrue at 9% and not 24%, Right? Wrong, according to New York's Appellate Division, Second Department in Matter of B.Z. Chiropractic v. Allstate Ins. Co., 2021 NY Slip Op 04484 (07/21/2021).
This PIP suit weaved a complex procedural path through the courts, summarized here because of its relevance. BZ, a medical provider, obtained a judgment against Allstate in November 2001 in the NYC Civil Court for $8,847.49. Then BZ waited 14 years before demanding payment from Allstate in 2015. By that time, the principal and interest, calculated at the 24% annual rate which Insurance Law section 5106(a) imposes on overdue PIP bills, had accumulated to $229,981.66 (and for judgments before April 2002, this interest was compounded monthly).
In response to this 2015 demand, Allstate paid the original judgment amount and made a motion in Civil Court to toll all the interest during the 14-year delay on the grounds that the delay was unreasonable. Civil Court granted that motion. Allstate then moved to compel the plaintiff to file a Satisfaction of Judgment for the amount Allstate had paid, and that motion, too, was granted.
Plaintiff appealed those two orders to the Appellate Term (that was before this current appeal). The Appellate Term reversed the Civil Court on the tolling of interest and the satisfaction of judgment, but did not address whether the correct interest rate was 9% or 24%. When the plaintiff moved to clarify the Appellate Term's decision as to the interest rate, that Court ruled that the interest rate should be 9%, but this was only an "advisory opinion" and thus, was not appealable.
Plaintiff, frustrated with the Appellate Term's decision, brought a separate action — a "turnover proceeding" and declaratory judgment action in Supreme Court, to both, compel Allstate's bank to pay the judgment and for the Court to declare that 24% was the correct interest rate. Allstate moved to dismiss because the Appellate Term's prior determination of the 9% interest rate made the question res judicata – already decided.  Supreme Court ruled that the correct interest rate was 24%. Allstate then brought this appeal to the Appellate Division.
The Appellate Division held, first, that only Supreme Court, not the Civil Court, has the jurisdiction to declare the correct interest rate on a judgment (Civil Court has no declaratory judgment power except for decisions about whether an insurer must defend an insured).  Therefore, whatever the Civil Court or Appellate Term held regarding the interest rate does not bind the Supreme Court, nor the Appellate Division. In addition, the question of the interest rate had not been argued or litigated in the earlier appeal: because the Appellate Term wrote that its statement on the interest rate was "advisory," which had neither res judicata nor collateral estoppel effect. As a result, there was nothing to prevent the Appellate Division from considering the interest rate question.
The Appellate Division then explained that CPLR 5004, which prescribes the interest rate on judgments, sets the rate at 9% annually "except where otherwise provided by statute."  Insurance Law 5106(a) provides a 2% monthly interest rate on overdue PIP bills; this, ruled the Court, fits the exception to CPLR 5004. Furthermore, this higher interest rate is intended as a penalty against insurers who delay the payment of judgments. As the Court noted, Allstate could have paid the judgment when it first became aware of it in 2001.
Comment: At first blush, it would seem that medical providers are reaping an unfair windfall by waiting 14 years to collect a judgment and then getting the benefit of New York PIP's incredible 24% annual interest rate.  And this is not a unique case: I have seen numerous instances where New York PIP judgments from 15 or more years ago are suddenly being presented for payment with hundreds of thousands of dollars in interest tacked on.
Why is this? Part of the reason is the history of the landscape and culture of New York PIP.  Those of us who were involved in NY PIP in the 1990s and early 2000s remember that in the mid-1990s, PIP transformed from a babbling brook into a tsunami that overwhelmed auto insurance carriers who were unprepared for either the volume or the legal complexities of this field of law. In fact, at that time, there wasn't even a book or a treatise on the subject (which led me to write one, Rogak's New York No-Fault Law & Practice, in 2005).  The reason why NY PIP exploded the way it did is a story worthy of its book.
Furthermore, until 2005, lawsuits could be commenced in New York City Civil Court without purchasing an index number. That meant that auto insurers (and their defense counsel, like myself) were receiving boxes full of thousands of NY PIP summonses without index numbers (or, as they call them in other States, "docket numbers").  So there was no way to trace them in the Courts and no way for defense counsel to file an Answer with the courts.  To describe New York PIP before 2005 as a "mess" would be a gross understatement.  One of the unfortunate results of that mess is that numerous small auto insurers became insolvent and were either sold or liquidated.
Another contribution to the mess mentioned above was that law office computer systems from 20 years ago may be accurately compared to The Flintstones (or as we call them today, "DOS programs").  The programs used by most law firms to track their cases do not even exist today.  When law firms transitioned to more modern programs, many of their files became lost in cyberspace, and it took years to find them. That is why some plaintiff law firms are now re-discovering judgments they obtained 20 years ago. (New York has a 20-year statute of limitations on judgments, but that can be renewed by re-filing the judgment).
But the lesson here is: old PIP judgments accumulate 2% monthly interest until paid.
---
Should you have any questions, please call our office at (914) 703-6300 or contact:
Marc H. Pillinger, Executive Partner
mpillinger@pmtlawfirm.com
Jeffrey T. Miller, Executive Partner
jmiller@pmtlawfirm.com