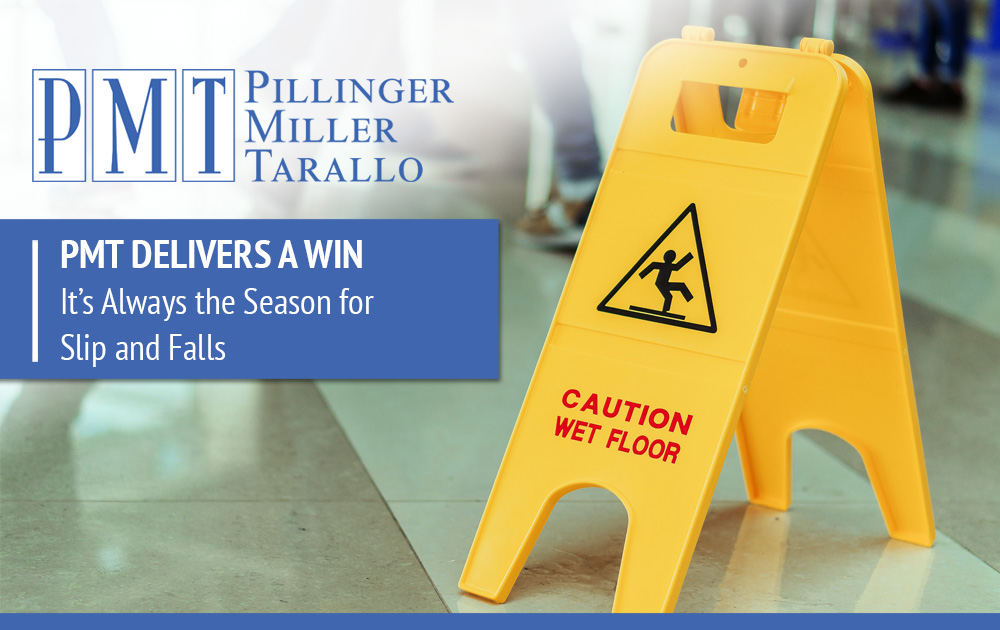 By Thomas M. Bona and Anthony M. Napoli.
Court: Supreme Court of the State of New York – Orange County
Case Type: Slip and Fall, General Liability
Caption: Edwards v. ShopRite Supermarkets Inc.
Index No.: EF009219-2018
Decision Date: December 21, 2022
Decision: Summary Judgment Granted
Although the recent dose of historic winter weather that has crushed much of the country brings to mind slip-and-falls on ice, freezing rain, and snow, it's always the season for slip-and-fall cases. Both outside and indoors, plaintiffs always seem to slip and fall and then seek to blame someone else. But an aggressive defense, with a quick investigation on the site of the accident, allows these cases to be successfully defended. A recent case that we handled shows exactly how to do this.
In Edwards v. ShopRite Supermarkets Inc., the plaintiff was shopping in the seafood department when she tripped and fell. She claimed back and knee injuries. When she completed the customer incident report, she said she fell on oil from her cart. We had the assistant manager testify that as soon as he heard the glass break, he was at the scene within 20 seconds, and the plaintiff was on the floor. In addition, we had another store employee testify at his deposition that inspections of the aisles are done routinely throughout the day by a maintenance person who also responds to specific calls out of the store during the day.
We moved for summary judgment dismissing the complaint. We argued that we needed actual or constructive notice identifying upon what plaintiff slipped. The court granted our motion finding that "there are no facts supporting the proposition that the condition existed for more than a brief 20-second period before the plaintiff slipped on oil that came from her cart". The court found that plaintiff's testimony of the events of the incident lacked any issue that needed to be tried". The court wrote that "merely claiming in a conclusory fashion that a factual question exists is insufficient (and) even viewing the evidence most favorable to the plaintiff, plaintiff had failed to raise a triable issue of fact." Thus, summary judgment was appropriate.
With an aggressive defense and investigation, PMT was able to have the case dismissed and save our client the time and expense of a trial or settlement. Let us show you how we can do that for you.
---
Should you have any questions, please call our office at (914) 703-6300 or contact:
Marc H. Pillinger, Executive Partner
mpillinger@pmtlawfirm.com
Jeffrey T. Miller, Executive Partner
jmiller@pmtlawfirm.com