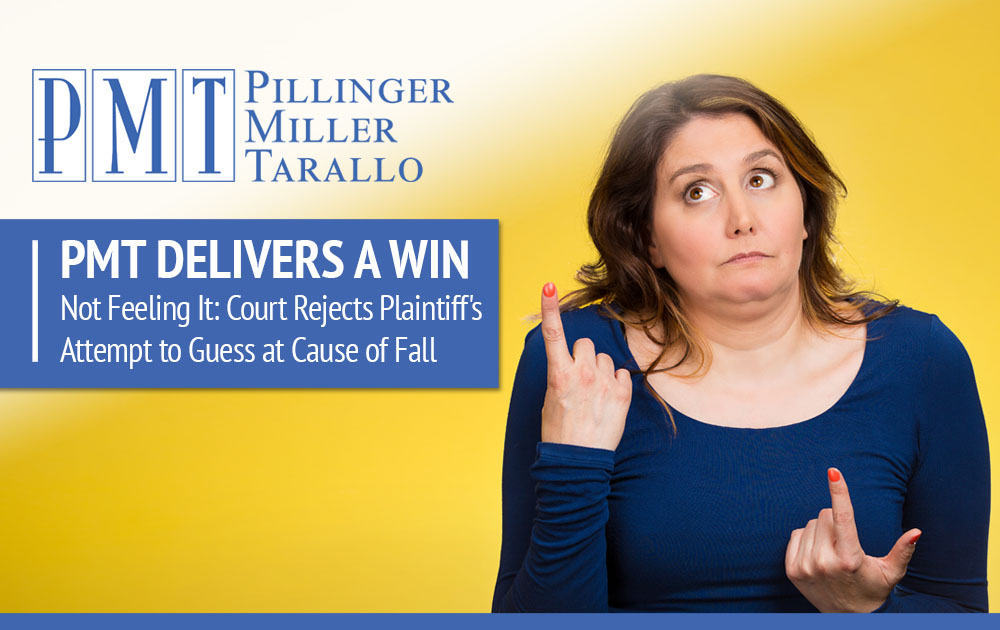 By Thomas M. Bona.
Court: Supreme Court of the State of New York – Rockland County
Case Type: Slip and Fall, General Liability
Caption: Lisa Simpson v. Sussex Condominium III, et al
Index No.: 033373/2019
Decision Date: March 25, 2022
Decision: Summary Judgment Granted
A critical element in any slip and fall case is whether the plaintiff knows what they slipped on. If the plaintiff cannot identify what they slipped on, this is a fatal defect to the case. PMT attorneys lay the foundation to have these cases dismissed by carefully questioning the plaintiff. A recent case in which we defended a condominium complex demonstrates how we do this.
In Simpson v. Sussex Condominium III, the plaintiff slipped and fell on a ramp to the deck of her unit. As she walked down the ramp, she slipped on what she described as black ice and suffered serious injuries which required surgery. The plaintiff's responsibility was to keep the deck and ramp free from snow and ice except for any time after a snowfall. PMT established that there had not been a snowfall for at least two days before the plaintiff's fall.
The plaintiff sued the condominium despite the condominium bylaws, which placed responsibility on her to keep the deck and ramp free of snow and ice. When questioned at her deposition, the plaintiff testified that she did not see the ice before or after she fell and if the only reason she thought that she slipped on black ice was that she "felt it." We moved for summary judgment, arguing that plaintiff could not identify what she slipped on and, in any event, it was her responsibility to keep the ramp free of snow and ice.
The court granted our motion and dismissed the case, finding that the plaintiff had failed to identify what she had slipped on since the only reason she believed that it was black ice was because she "felt it." Let us show you how PMT gets meritless cases dismissed by asking the right questions.
---
Should you have any questions, please call our office at (914) 703-6300 or contact:
Marc H. Pillinger, Executive Partner
mpillinger@pmtlawfirm.com
Jeffrey T. Miller, Executive Partner
jmiller@pmtlawfirm.com