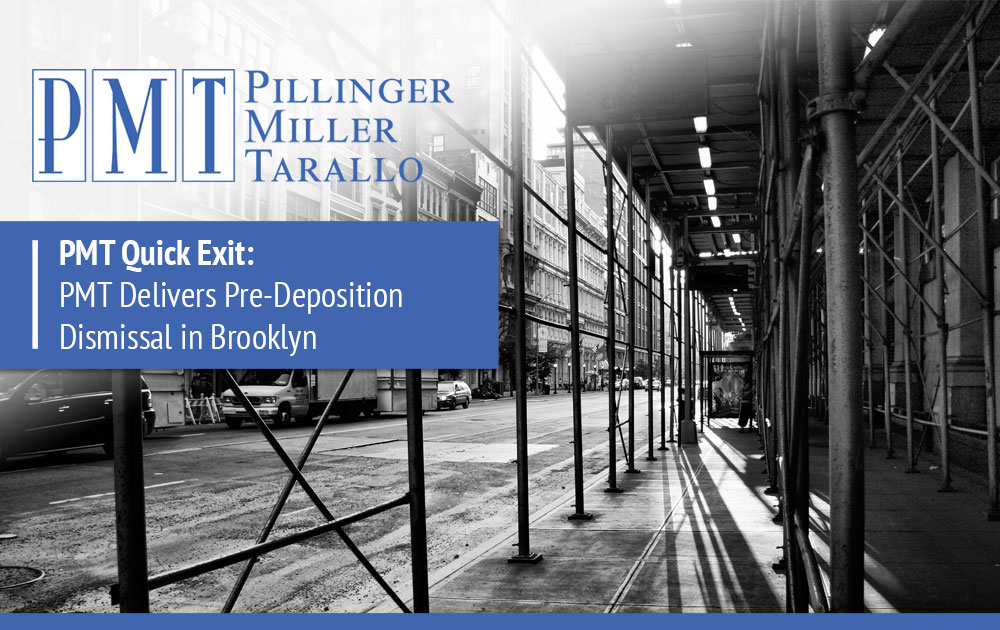 By Richard J. Freire.
Court: Supreme Court of the State of New York, Kings County, Brooklyn
Judge: The Honorable Rosemarie Montalbano
Case Type: Premises/Negligence
Caption: D.A., et al.  v. The City of New York, et al.
Index No.: 518686/2019
Decision Date: June 30, 2021
Decision: Pre-Deposition CPLR 3211 Motion to Dismiss
Getting cases dismissed is difficult under the best of circumstances. Judges are normally sympathetic to injured plaintiffs and do not like to dismiss cases since it may leave a plaintiff without financial recompense. Since many judges especially in New York City are former plaintiffs' attorneys, judges empathize with plaintiffs and refuse to dismiss cases that should never have been filed in first place. Even more difficult is getting a case dismissed before there is any discovery or depositions. PMT is known for providing an aggressive defense on behalf of our clients. We always focus on developing evidence to find the swiftest way to get our clients dismissed from what can become protracted and costly litigation.
One such recent case in Kings County highlights how we do this. In D.A. et al. v. The City of New York, et al., the plaintiff, a minor, and his mother, brought suit against the City of New York, and our client Technico Construction Services, Inc., claiming that the infant plaintiff was injured outside of 505 Columbia Street, Brooklyn, New York 11231, on January 30, 2019, when he was caused to fall to the ground, which resulted in his striking his face on the scaffolding at the subject location by reason of a dangerous, hazardous and unsafe condition at the subject premises. The sub-contractor who installed the scaffolding, Roma Scaffolding, was later brought in as a direct defendant.
Our client, Technico, was the general contractor hired by the New York State Housing Authority to perform roofing repairs to the subject building following damage caused by Super Storm Sandy. Plaintiff Ramona Calero testified at a 50-H hearing held on October 3, 2019, wherein she stated that she had lived in the building located at 505 Columbia Street, Brooklyn, New York, for the past 14 years. On the day in question, she and her son were walking back to their apartment building when he tripped on a crack in the sidewalk which caused him to fall and subsequently strike his face and body on the scaffolding present at the building. When further questioned regarding the crack upon which her son tripped, she testified that the crack had been there for her entire 14-year tenure in the building.
Based on this testimony, PMT moved immediately for dismissal of the case against our client on the grounds that the subject crack was pre-existing. The Court then converted the motion to one for Summary Judgment. The City of New York and New York Housing Authority opposed the motion, arguing that further discovery was needed which might reveal that the presence of the scaffolding worsened the subject crack. The Court rejected this argument and granted Technico's motion and dismissed them from the action.
With our aggressive defense, PMT was able to save our client time and expense that go with protracted litigation and give our client peace of mind. Let us show you how PMT can do that for you.
---
Should you have any questions, please call our office at (914) 703-6300 or contact:
Marc H. Pillinger, Executive Partner
mpillinger@pmtlawfirm.com
Jeffrey T. Miller, Executive Partner
jmiller@pmtlawfirm.com