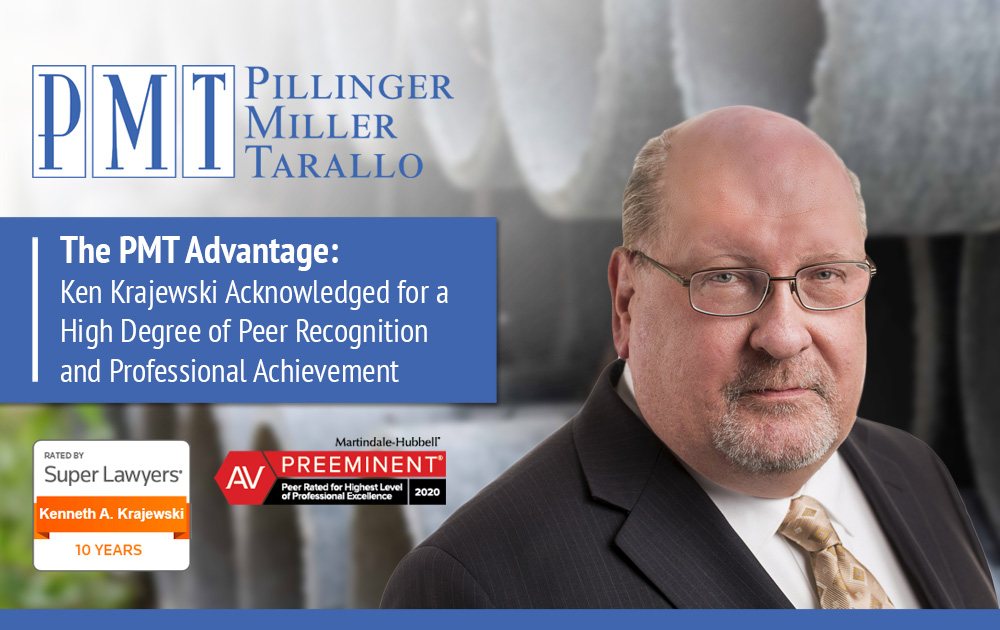 PMT is proud to feature Kenneth A. Krajewski, a partner in our Buffalo office. Ken brings a wealth of knowledge and extensive trial experience. He has been named a Super Lawyer from 2008 to 2020 and has been rated AV by Martindale-Hubbell. A significant amount of Ken's practice involves defending and counseling manufacturers facing asbestos and toxic exposure matters. Among other honors, Ken has been the Chair of the Toxic Torts Committee of the Torts, Insurance & Compensation Law Section of the NYSBA.
Ken has served as lead counsel state-wide (except NYCAL) to defend asbestos claims in state and federal courts on behalf of pump and valve manufacturers, pressure vessel manufacturers, retailers, tire curing machine manufacturers, and friction product manufacturers.
Ken shares "Six Trends in Asbestos Litigation You Should Know."
Asbestos cases continue to cost more each year to resolve. Although total payments in 2019 decreased, the average dollars per resolved asbestos claim increased 25% in 2019.
New asbestos case filings fell 7% and continued a five-year decline.
Although fewer people are being diagnosed with mesothelioma, the propensity to sue is increasing.
Men are the predominant plaintiffs in mesothelioma cases because they were exposed in the workforce. However, suits by women have increased by over 100%. One reason is the recent trend linking cosmetic products made with talc contaminated by asbestos with mesothelioma, lung cancer, and ovarian cancer. Examples are eye shadow, foundation, blush, face powders, as well as body powders.
Talc-related mesothelioma cases are growing each year since the first case was filed in 2016.
One of the biggest reasons for the uptick in talc-related mesothelioma filings is the increase in plaintiffs' firms marketing towards mesothelioma victims, which has created widespread awareness of asbestos litigation.
Annual mesothelioma diagnoses in the United States, while falling, continue at a rate of 1.4 per 100,000 in males and approximately .40 per 100,000 in females. See National Cancer Institute, SEER Cancer Statistics Review 1975-2017 (https://seer.cancer.gov/csr/1975_2017/results_merged/sect_17_mesothelioma.pdf).
The Centers for Disease Control and Prevention (CDC) estimate about 2,400 – 2,800 new mesothelioma cases in the United States each year. The average age for a pleural mesothelioma diagnosis is 72. See www.cancer.net/cancer-types/mesothelioma/statistics, January 2020. Asbestos litigation is expected to continue as additional sources of asbestos exposure are identified.
Today, the new paradigm in defense and coverage litigation requires that a firm be innovative, creative, proactive, and on the forefront of technology. PMT is proud to be an industry leader in its areas of expertise and client satisfaction.
Ken Krajewski and PMT will partner with you in meeting the challenge. Let us show you.
To view Ken's bio CLICK HERE.
---
Should you have any questions, please call our office at (914) 703-6300 or contact:
Jeffrey T. Miller, Executive Partner
jmiller@pmtlawfirm.com
Thomas M. Bona, Partner
tbona@pmtlawfirm.com