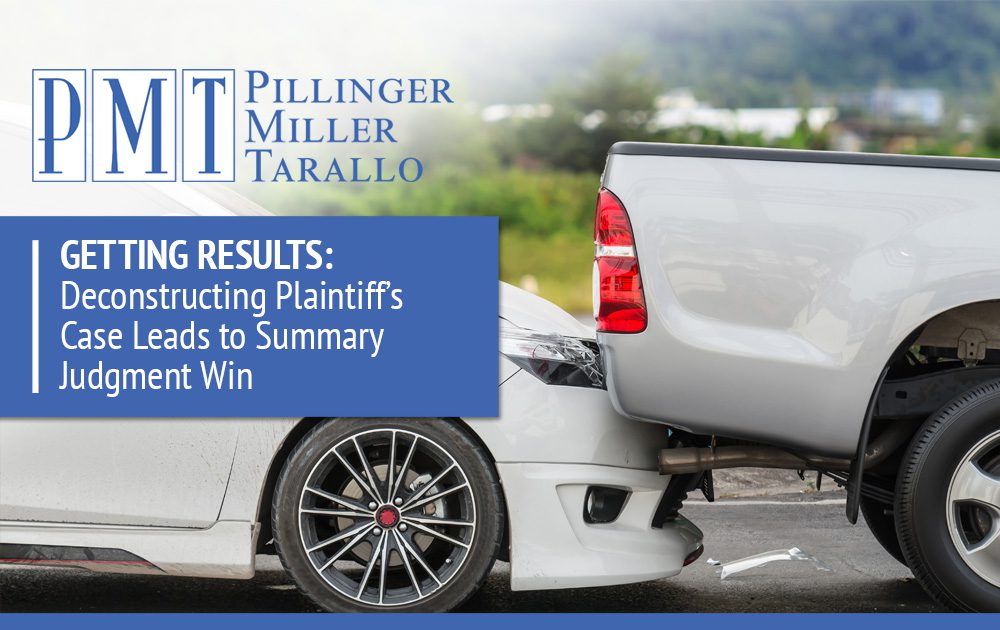 By David S. Aronowitz, Thomas M. Bona and Gina M. Longobardi.
Winning cases by summary judgment requires an attorney to thoroughly analyze plaintiff's claims to eliminate any issues of fact. At PMT, we take a thorough approach to the plaintiff's evidence to prove why the right decision is to dismiss a case.
A recent motor vehicle case is an excellent example of how we protect our clients. PMT won summary judgment based on plaintiff's failure to meet the No-Fault threshold.
In Robinson v. Manzo (Suffolk County, NY Index No.: 608380/2021 – PMT: Automobile and General Liability), plaintiff rear-ended our insured and then sued him. Plaintiff claimed that she suffered herniated and bulging discs, radiculopathy, and carpal tunnel syndrome in both wrists. Plaintiff underwent surgery on her left wrist and left elbow for carpal tunnel syndrome and later on her right wrist for carpal tunnel syndrome.
PMT associate Gina Longobardi moved for summary judgment, arguing that plaintiff had failed to meet the no-fault threshold and that the carpal tunnel syndrome was unrelated to the accident. Our examining orthopedist found that because an EMG test conducted 42 days after the accident showed preexisting degenerative changes, the wrist and elbow injuries were unrelated to the accident because EMG changes typically do not appear until three months after an accident.
Gina also used testimony at plaintiff's deposition that she missed three or four days from work, and there was no activity that she was unable to perform because of the accident. However, she had difficulty sitting and standing for long periods and lifting heavy objects sometimes.
Plaintiff opposed the motion with affirmations from several physicians; however, the court held that the plaintiff, and her medical experts had failed to rebut prima facie showing no serious injury, and the court dismissed the case.
By crafting an excellent argument regarding the origin of the injuries and how the medical records supported that the injuries were unrelated to the accident, Gina saved the client from substantial exposure to bilateral wrist surgeries.
Let PMT deliver results for you.
---
Should you have any questions, please call our office at (914) 703-6300 or contact:
Jeffrey T. Miller, Executive Partner
jmiller@pmtlawfirm.com
Thomas M. Bona, Partner
tbona@pmtlawfirm.com