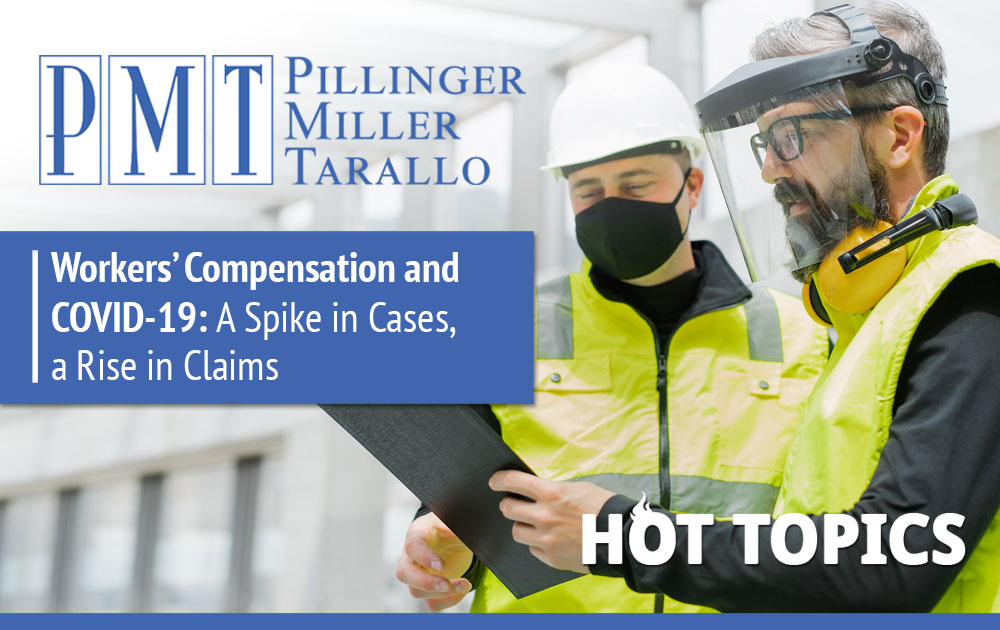 By Charlene Stewart Barnaba and Anthony M. Napoli.
As businesses and employers navigate this "new normal," developing policies and procedures to protect against the spread of the Coronavirus, employees are split between the need to return to work to generate an income, and the overwhelming fear of contracting the virus and bringing it home to loved ones. While Workers' Compensation insurance is designed to protect businesses and their employees from financial loss arising out of a work-related injury or illness, the question remains: Is COVID-19 considered an occupational illness under Workers' Compensation?
The short answer: maybe.
To prevail in a Workers' Compensation claim citing an occupational disease, it must arise out of and in the course of employment. Courts look to various factors in determining whether the disease was contracted "out of and in the course of employment," including the causal connection between the work conditions and the occupational disease, whether the disease constitutes a natural incident of the nature of the employment, whether the employment is the proximate cause, and if workers would have been equally exposed to the hazard outside of work. Previously, courts have seen Workers' Compensation claims for overexertion, slip and falls, machinery accidents, falling – but just as Coronavirus develops and evolves, so does the law.
Reports through the end of July indicate over 436 COVID-19 work-related lawsuits, with New Jersey, New York, and Pennsylvania among the top 7 states with the highest federal and state claims. Further, remote work and employee leave issues, standard employment discrimination allegations, and whistleblower claims lead the list of claims employers have seen most.
Some states have expanded their Workers' Compensation coverage through mandates and legislation to include essential workers, first responders, prison and jail officials, and healthcare workers. Others have conclusively declared the contraction of COVID-19 at work a work-related injury, thus covered by Workers' Compensation insurance.
In New York, the Board advised that the issue of causality regarding Workers' Compensation claims resulting from COVID-19 is of a great importance. Accurate documentation regarding the patient's work exposure is critical for workers to obtain appropriate benefits. Additionally, the provider's opinion regarding the likelihood of work-related disease transmission should be included in the medical narrative. If the provider believes that the worker in their medical judgment, is likely to have contracted COVID-19 through a work exposure, it should be reported as such. The Board advised that a medical report from an authorized Workers' Compensation medical provider would be needed and that it would need to state that the worker's employment caused the COVID-19 illness.
The Board in New York State noted that a positive test result would be best, but a medical report from an authorized Workers' Compensation medical provider showing a diagnosis via a PCR test or by virtue of examination by a treating physician may be used. The Workers' Compensation Board stated that it had sent a letter to all insurance carriers encouraging them to be helpful to workers and to investigate and pay claims as quickly as possible. Currently, New York's Senate Bill 8266, if passed, would classify COVID-19 as an occupational illness for various groups of workers, including those in nursing homes, daycare centers, train stations, retail outlets – to name a few.
New Jersey has seen the second highest number of lawsuits arising out of COVID-19 Workers' Compensation claims. In a case recently filed in the Superior Court of New Jersey Burlington County, a pregnant employee alleges wrongful termination for refusing to work a shift treating COVID-19 patients, despite her doctors written order to refrain. Another New Jersey claim indicates that in order to avoid accommodating a pregnant employee, the employer wrongfully terminated her employment prior to her Family and Medical Leave Act (FMLA) eligibility. Also, in New Jersey, a pregnant employee was denied the request to be furloughed after recognizing her fellow employees were COVID-19 positive. She reports an initial change in position, before ultimately being terminated.
Federally, the Families First Coronavirus Response Act (FFCRA) has provided eligible employers and employees with expanded paid sick leave, family and medical leave, and unemployment rights and benefits through December 31, 2020. More coverage may be available, depending on jurisdiction, and new advancements and updates to state codes are consistently made. Employers should look to both federal and state guidance to ensure workplace safety while navigating this unprecedented time.
---
Should you have any questions, please call our office at (914) 703-6300 or contact:
Marc H. Pillinger, Executive Partner
mpillinger@pmtlawfirm.com
Jeffrey T. Miller, Executive Partner
jmiller@pmtlawfirm.com
Thomas M. Bona, Partner
tbona@pmtlawfirm.com