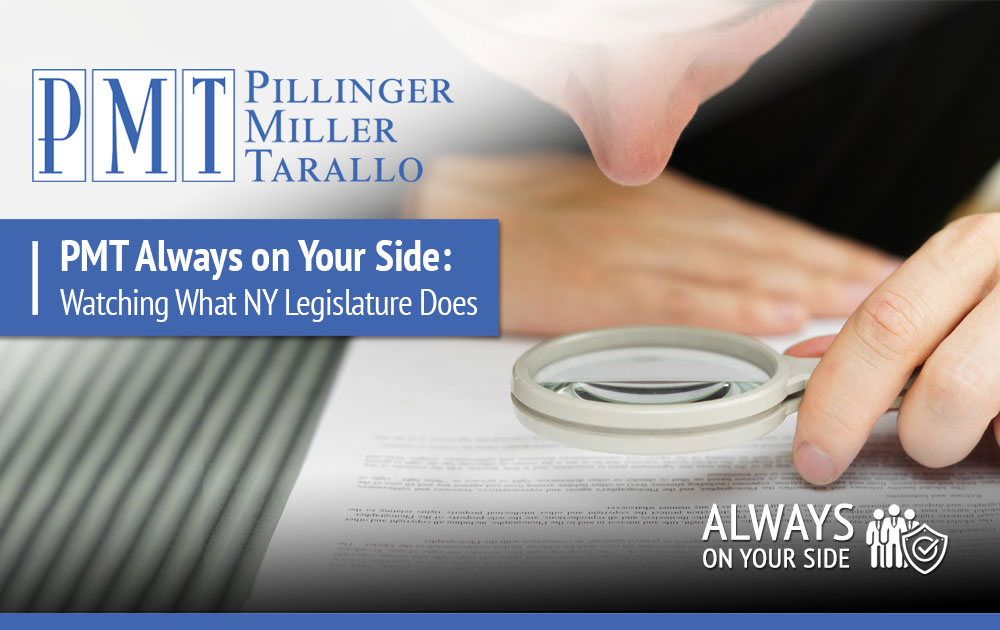 By Anthony M. Napoli, Thomas M. Bona, and Charlene Stewart Barnaba.
It's easy to miss significant and critical new pieces of legislation, especially when the legislature passes a flurry of bills as they rush to adjourn for the end of the session. At PMT, we are watching the legislature, so we can always advise you on how it may affect the insurance industry.
The three bills discussed below are in various stages, from being "in Committee" to being "Delivered to the Governor." Each bill has the appearance of good intentions, but each has costly consequences. Should actual practicing attorneys in specific areas of law work with our legislatures to help pass meaningful laws? 
Bill S-1024-B
Starting with Senate Bill S-1024-B, which relates to the eligibility of a claimant pursuing classification for a disability rating of permanent total disability. Specifically, eligibility for classification as a permanent total disability; includes the inability to perform the full range of sedentary work or approval for federal social security disability benefits as a result of a compensable accident or occupational disease as constituting permanent total disability. As outlined in its current state, the Justification of this bill will have drastic ramifications for both claimants and respondents. From an injured worker's perspective, first and foremost, compensation is usually the focus in the form of weekly benefits or indemnity payments. The weekly indemnity payments are used for the injured worker, since they need their income supplemented as a result of an accident. However, long-term indemnity payments, or a person's "Loss Wage Earning Capacity" as referenced in this bill, are based on different factors than an initial temporary disability finding. These factors are the building blocks to arguing for or against a high percentage of long-term indemnity payments for the claimant. An injured worker can receive between 225 and 525 weeks of benefits. For an injured worker to be entitled to said benefits, attorneys produce evidence and argue on behalf of their clients through the Workers' Compensation Board. 
However, based on this bill, one side can no longer argue or litigate their position in pursuing a claimant's permanent classification. While this bill means well in that if one system finds a person permanently disabled, then why shouldn't the other. The answer is that both of these systems have two different legal standards, and one is adversarial vs. non- adversarial. What is an injured worker to do if they receive an unfavorable decision through the Federal procedures, and the employer uses it against them? In its current state, this bill will do more harm than good. 
Bill S-9149
The next bill to be discussed is Senate Bill S-9149, which limits the effect of determinations by the board of workers' compensation. The first two bills discussed here are similar because they want parties to make assumptions or disregard findings. However, that is why our legal system is in place. Yes, we want injured parties, with no income, to have access to a faster determination, on whether they are entitled to indemnity. But it should not be at the expense of employers, other companies, or potentially themselves.
Further, while the first listed bill claims to speed up the system, this second bill would do the complete opposite. In that, the second bill would make parties relitigate issues that have already been decided. This bill claims that determinations by the workers' compensation board shall not be given collateral estoppel effect in any other action or proceeding arising out of the same occurrence other than the determination of an employer-employee relationship. The Justification listed for this bill, simply put, is incorrect. An injured worker does not give up the right to litigate the issues throughout the case.
Further, what is not considered, is that a 3rd party case may have one jury trial. A workers' compensation case could last the entirety of someone's life, with an unknown amount of administrative bench trials occurring. This bill will have costly effects for all parties. For example, if a claimant is found to have committed fraud through the Workers' Compensation Board, why should all parties have to go through and litigate the same issue? There are actual reasons why collateral estoppel is a legal term of art. And to try and get rid of it in such a broad fashion will again hurt the system more than it will help. 
Bill S-6373B
The last bill discussed is Senate Bill S-6373B, which relates to claims for mental injury premised upon extraordinary work-related stress incurred at work and applies to all workers. The purpose of this bill is so that all workers can receive PTSD coverage under the NYS Workers' Compensation Coverage identified work-related stress. If an injured party hires an attorney with the proper medical evidence, they can successfully establish their case for PTSD without this bill. Again, this bill has the right intentions. Even though an injured worker's profession may not be listed explicitly as high stress, that does not automatically dismiss the case. Some examples of dismissals of these types of cases are:
The claimant does not hire an attorney.

The claimant tries to hire an attorney but cannot find one based on the difficulty of these cases and the low/no indemnity value.

There isn't a certified specialist in the claimant's area to provide Prima Facie Medical Evidence for the claimant.
New York State needs to look at the Workers' Compensation System from both a bird's eye view and a worm's eye view. While it is essential to try and make changes from a bird's eye view, we need to make sure the people that these bills are intended to help are not hurt further by these decisions. Like most complex systems, when non-experts attempt to make a change, it makes things worse since the "helpers" do not know the ramifications of what they are trying to do. 
PMT Always On Your Side…
PMT believes the following suggestions could improve the above bills aim. Firstly, increase fee rates for physicians and specialists and require verification of up-to-date contact information on the NYS Workers' Compensation Board website every 60 days. This will ensure that injured workers have the opportunity to be treated by a physician in their area that is Board Certified. It will also reduce the time it takes for an injured worker to be treated. Further, it may allow specialists that would not otherwise treat an injured worker to open their offices to see Workers' Compensation cases. 
Secondly, require injured workers to provide all medical records regarding injuries. This will allow parties to consider the entire medical history of the injured worker when deciding on permanent disability, without having to piece mail the evidence or have different results than the SSDI.
Thirdly, concerning collateral estoppel, we should allow our Courts to determine this issue as they are considered the experts. Fourthly, there should be automatic attorney fees set on each case, and on cases with no value, New York State should consider creating a fund to pay attorneys to represent injured workers. Injured parties should not be trying to handle their cases on their own.
Whether the above bills are signed into law or not, our workers' compensation team at Pillinger Miller Tarallo, LLP, will be able to guide you, including what to expect from proposed/passed legislation or, more importantly, how to handle a case from the best strategic position. 
Don't hesitate to contact our Workers' Compensation attorneys at Pillinger Miller Tarallo, LLP if you want to know more. Call (914) 703-6300 or email us. Contact us with questions or for guidance on your legal matters.
---
Should you have any questions, please call our office at (914) 703-6300 or contact:
Marc H. Pillinger, Executive Partner
mpillinger@pmtlawfirm.com
Jeffrey T. Miller, Executive Partner
jmiller@pmtlawfirm.com