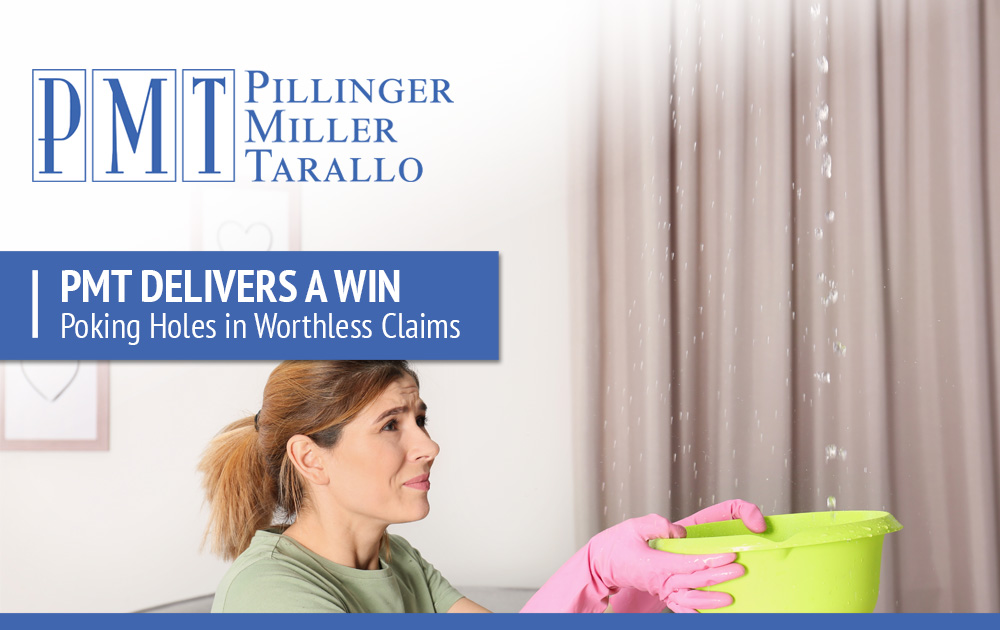 By Melissa P. Tsynman and Neil L. Sambursky.
Court: Supreme Court of the State of New York – County of Suffolk
Judge: Hon. Martha L. Luft
Case Type: Property Damage, General Liability
*specific issues include Contribution and Indemnification
Caption: Argutto v. J.P. Hunter Co. Inc.
Index No.: 623638/2018
Decision Date: June 27, 2022
Decision: Summary Judgment Granted, dismissal of Third-Party Complaint
In any given case, the judge resolves matters of law, and questions of fact are determined by the jury (or a judge, if a bench trial). As the trier of fact, the jury decides what happened by weighing the strength of evidence and the credibility of witnesses. 
But what if the material facts aren't in question; is a trial still necessary? 
Summary judgment is a procedural remedy where the judge will reach a decision and enter judgment as a matter of law when there is no genuine dispute as to any material fact that should be put to the test of a trial (i.e., a triable issue of fact). Under the right circumstances, the summary judgment awarded to a defendant will dispose of the case without going to trial.    
Opponents seeking to defeat a motion for summary judgment must submit evidence of a triable issue of fact. However, evidence based on speculation or conjecture is insufficient, and only disputes about facts that could affect the outcome under the governing law will prevent summary judgment. 
In the absence of a triable issue of fact, opponents will often feign issues of fact to give the illusion of a material fact in dispute.
Feigned issues of fact, like red herrings, are commonly used as a tactic by those seeking to avoid dismissal. A skillful attorney can dispel these red herrings and persuade the judge to grant their motion. In a recent case, PMT successfully won summary judgment by doing precisely that.
In Argutto v. J.P, Hunter, et al., the plaintiff sued his roofing contractor for property damage when water penetrated his roof during a rainstorm because the roofer failed to make it weatherproof. The roofer subsequently sued PMT's client, a remediation contractor that provided emergency services to mitigate the water damage, in a third-party action seeking common law indemnification and contribution. 
We established our entitlement to summary judgment as a matter of law by submitting proof that our client had no part in causing the water infiltration and resultant water damage at issue. This material fact was undisputed by the roofer.  
In opposition, the roofer claimed that the remediation contractor failed to follow its policy concerning photographing and documenting the water damage and contributed to the plaintiff's damages by unnecessarily removing sheetrock that was not damaged by water. 
We argued (and the Court agreed) that even assuming the roofer's claims were valid, the roofer failed to show how the removal of perfectly good sheetrock contributed to the water damage forming the basis of his contribution claim against our client. [1] The roofer also failed to explain how the water damage was worsened by not being photographed and documented. This failure, coupled with the roofer's wrongdoing, also barred the roofer's claim for common law indemnification. [2] As a result, the case against our client was dismissed.
By carefully analyzing the roofer's claims against the proof they were required to demonstrate and then aggressively moving to dismiss those claims, PMT gave our client a win. Let us show you how we can do that for you.
[1] For a contribution claim to survive, the party from whom contribution is sought must be liable for the same injury as the party seeking contribution.See, e.g.,Nassau Roofing & Sheet Metal Co. v. Facilities Dev. Corp., 1 N.Y.2d 599, 602 (1988).

[2] Common law indemnification is only available without actual fault on the part of the proposed indemnitee. See, e.g., Shaughnessy v. Huntington Hosp. Ass'n, 147 A.D.3d 994, 999 (2d Dep't 2017).
---
Should you have any questions, please call our office at (914) 703-6300 or contact:
Marc H. Pillinger, Executive Partner
mpillinger@pmtlawfirm.com
Jeffrey T. Miller, Executive Partner
jmiller@pmtlawfirm.com